CBS Celebrity Big Brother season finale tonight! Which of the five remaining Celebrity Big Brother house guests will be crowned the winner to take home the $250,000? Who was evicted? Who is the new Head of Household? Who are the Final 2? Who won Celebrity Big Brother? Keep reading to find out! Missed those dramatic moments inside the Celebrity Big Brother house? Don't worry, you can try the Live Feeds and FLASHBACK to watch all the action. Click on any Celebrity Big Brother banner right here at BBU and sign up. It's never too late grab your FREE TRIAL of the Live Feeds.. Watching the live feeds live or in flashback not for you? Another great way to support this website is by making a donation via our PayPal link. It's safe, easy and secure to use. We appreciate any support! Just stopping by for the first time this season? Make sure you check out our forums for Live Feed Discussions and Updates, Episode Discussions and so much more!
Just to recap
HOH - Ricky
Nominees - Kandi and Dina
Power of Veto Winner- Lolo
Power of Veto Meeting - Lolo did NOT use the Power of Veto
Nominees remain - Kandi and Dina
Now we're down to the nitty gritty ...
Live Voting
Lolo - Kandi
Tamar - Dina
HoH Ricky breaks the tie and evicts Kandi
Head of Household Competition - Celebrity Lookalike Junior
Features 7 videos with child celeb lookalikes who will make 3 season-related statements,
House Guest will identify the false statement
It's a tie between Ricky and Tamar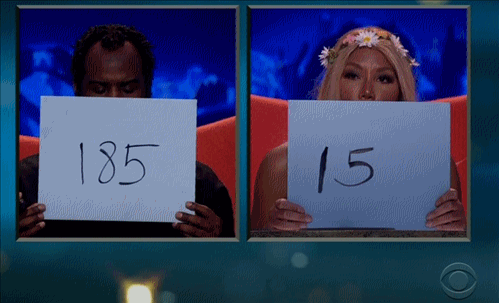 Tie Breaker question goes to Ricky
RIcky is the new Head of Household
Ricky evicts Dina and Lolo, leaving Tamar as his choice to go against in the Final 2
Dina and Lolo have been evicted from the Celebrity Big Brother house.
Ricky and Tamar are the Final 2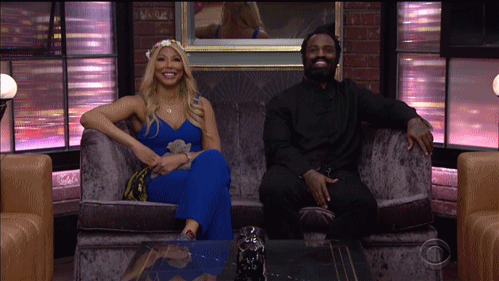 Jury Votes
Jonathan- I'm voting for someone who had my back as much as they could
Ryan - Good luck, that's all I've got.
Joey- I said from Day One that it was one person's journey to win this thing, we'll see what God has in store for you guys
Kato- Tamar, sorry about slipping on shrimp, I'm okay.
Natalie - Love you both, our time in the bedroom, truly amazing.
Tom - Tough choice, for a lot of reasons, but congrats to both, just going to vote for ... the one that made me laugh the most.
Kandi - This was life changing for the both of us, glad one of us made it.
Dina - I don't know which one, but I have to make a choice, love you both.
Lolo - in this game you can make a decision based on DEALS or on your heart, that is how I will vote.
Julie reveals the votes and the winner of Celebrity Big Brother ....
Julie Chen - you need at least 5 votes to win the $250,000, Runner Up wins $50,000.
Votes Revealed...
Jonathan- Tamar
Ryan - Tamar
Joey - Tamar
Kato - Tamar
Natalie - Tamar
Tamar is the winner of Celebrity Big Brother
Other votes ...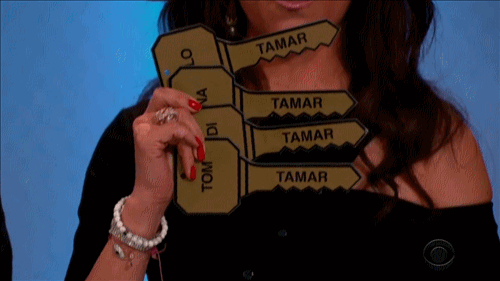 Tom, Kandi, Dina and Lolo all voted for Tamar
It was a clean sweep, unanimous vote of 9-0 for Tamar
Tom Green wins America's Favorite House Guest and $25,000.
Couple of fun facts...
Julie revealed that not since Big Brother 10 Dan Gheesling win has there been a clean sweep in a jury vote.
The First-In Curse has finally ended. Tanar was the first person to walk into the Celebrity Big Brother house this season and with her win, that ends the "First-In Curse".
It's been a great season of Celebrity Big Brother.
Now, we look forward to having you with us for Big Brother Season 21!!!
Like what we do here?
Making a donation is a great, easy way to help support this website and all that we do whenever Big Brother is on!
Again, we are super happy to have you back with us for another season of Celebrity Big Brother.
Any support is deeply appreciated.
❤️
If you are not a registered member of BBU, we invite you to register and join us.
And, don't forget to follow us on Twitter -
https://twitter.com/BB_Updates
As always, thanks for reading!
Lexie