Tonight on CBS Big Brother 21 we wrapped up Jackson Mickey's Camp Director decision on which four house guests would be banished from the Big Brother House. We watched the four battle, three return and one is out of the Big Brother house "for now". We also watched the first Endurance Head of Household competition of the season. Which house guests were banished? Which three houseguests returned? Which houseguest is out "for now"? Who is the first Head of Household? And, what in the world is a Wacktivity Competition? Keep reading to find out! If you're a Big Brother Fan, you know the real drama begins when the Big Brother 21 Live Feeds go LIVE with CBS All Access. You can sign up for a
1 week Free Trial
by clicking on any of the All Access banners right here at BBU, or
click here
to get started. Remember, if you like what we do here all summer long, one great way to show your support is by signing up for
CBS All Access
. If the Live Feeds aren't for you and you would rather stop by right here at BBU to catch up on what's happening inside the Big Brother 21 house, another great way to help support all that we do here all summer long is to make a donation via PayPal. We're super exited that Big Brother is back and even more excited that you are back with us right here at BBU!
Camp Director Jackson Mikey banished Cliff Hogg, Kemi Faknule, Jessica Milagros and David Alexander
Surprisingly? Cliff Hogg was the first Big Brother House Guest to return to the "BB Camp" aka the Big Brother House, followed by Kemi Faknule, and Jessica Milagros.
David Alexander wasn't so lucky, as Julie Chen announced that he was out of the Big Brother House "for now"... maybe he was lucky after all.
Christie Murphy won the Endurance Head of Household Competition.
And, Julie announced a new never before "twist in the game" ....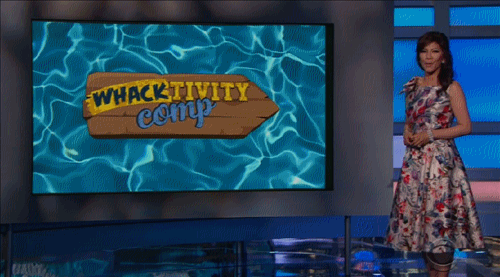 The Wacktivity Competition will play out next Wednesday night ( but before that on the Live Feeds )
Speaking of the Live Feeds .. that's where all the drama will play out starting tonight!
You'll need to subscribe to
CBS All Access
to watch what we love the most about Big Brother, the Live Feeds! If you haven't signed up yet we'd love to have you sign up through BBU! You get a Free One Week Trial and you help support all that we do here all summer long, at the same time!
Like what we do here?
Making a donation is a great, easy way to help support this website and all that we do whenever Big Brother is on! Just click on our PayPal link and follow the steps! We'll add a cool donator button to your account to let you know how thankful we are for your support!
Again, we are super happy to have you back with us for this new season of Big Brother 21!.
Any support is deeply appreciated.
❤️
If you are not a registered member of BBU, we invite you to register and join us.
And, don't forget to follow us on Twitter -
https://twitter.com/BBrotherUpdates
As always, thanks for reading!
Lexie