Big Brother 21 Live Eviction and Head of Household Competition Tonight! Did the vote flip? Who was evicted? Who is the new Head of Household? Keep reading to find out! Thanks to Taco Tuesday, we're getting down to the nitty gritty and it's game on inside the Big Brother 21 house now more than ever! And, lucky for you, it's not too late to try the Live Feeds for FREE! The drama inside the Big Brother 21 house is full force. Watch all the drama play out LIVE! There's never been a better time than now to try the Big Brother
Live Feeds with CBS All Access
. Don't miss a minute of ALL the DRAMA inside the Big Brother 20 house. Try the
Live Feeds FREE for one week
and catch ALL the DRAMA inside the Big Brother 21 house. Get your
CBS All Access
for an inside look like never before. Try the feeds for Free for one week!
Click HERE
or on any banner or link right here at BBU to start the process and sign up today. By clicking on the links/banners here you help support all that we do. We truly appreciate any support!
Julie Chen - A brand new twist is about to be unleashed. It's called prank week. It won't effect tonight's Live Eviction, it will change tonight's Live Head of Household competition and the new HoH's power.
America's Prankster Vote Description:
During the Voting Period, viewers of the Big Brother 21 television program will be asked to interact with the show by voting for a Houseguest they want to see become America's Prankster via the platform stated below. The eligible Houseguest who receives the most votes during the Voting Period will be named America's Prankster, and will be given the power to secretly control one nominee for eviction during the applicable week, by selecting one nominee at the Nomination Ceremony. America's Prankster will also choose a replacement nominee if their original nominee is vetoed during the Veto Meeting. Evicted Houseguests and the current Head of Household of the applicable week are not eligible to receive votes in the Program. Viewers will vote via the BB Web Site. There is a maximum of ten (10) votes per registered user during the Voting Period.
4. How to Participate:
Voting: Participants may vote, during the Voting Period, on the platform as described herein.
(i) Participants may vote via the CBS Big Brother page accessible at
cbs.com/bbvote
. Once on the Big Brother page you can vote via the voting tool.
Participants may access the voting platforms via their computers and/or mobile devices.
Voting Period Schedule:
| | |
| --- | --- |
| Start Date and Time | End Date and Time |
| 6:30 PM PT August 22, 2019 | 9:00 AM PT August 23, 2019 |
Live Voting:
Jessica - Analyse
Nick - Christie
Tommy - Analyse
Holly - Analyse
Nicole - Analyse
Cliff - Analyse
By a vote of 5 -1 .... Analyse has been evicted from the Big Brother 21 house and becomes the 3rd member of the jury.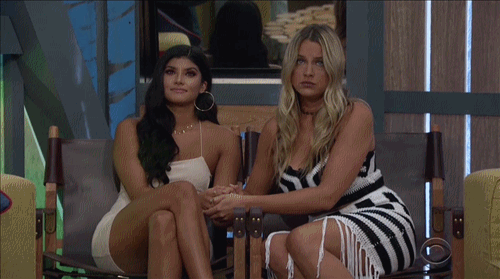 Julie - you thought you were the pawn and Christie was the target, what happened?
Analyse- the blow up between Nick and Christie.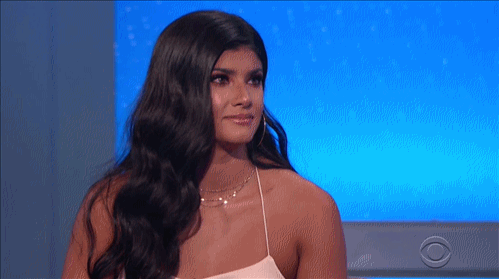 Julie- had you stayed would you have protected Nick?
Analyse answers "yes"
Julie - who if anyone .. do you feel most betrayed by?
Analyse - Jackson ... he told me that he didn't want to see me out here, when I was nominated, I was really blindsided. I just felt betrayed.
Julie- was it possible that when he said that .. he really meant it?
Analyse- it's possible, but I'm just really confused about everything.
Julie- Final thoughts...?
Analyse - I just hope Tommy really wins this HoH.
Julie tells Analyse that they will talk about her and Jack in the extended interview ... and see her goodbye messages.
Julie tells the House Guest that staying up all night and listening to the bird calls was "all for nothing",,,,, and has nothing to do with tonight's HoH Competition ...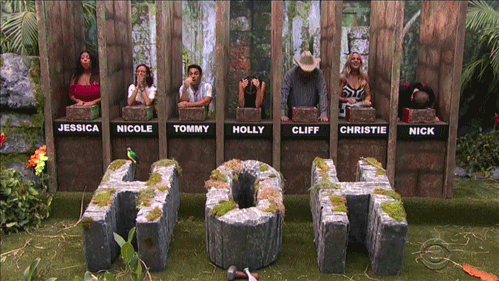 Julie to the House Guests - the power is up for grabs..... last night you were kept awake all night by the BB Birdwatching Audio Tour.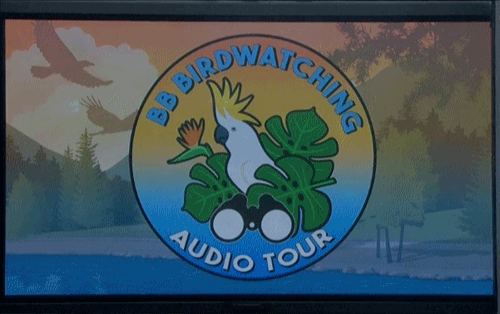 Julie to House Guests - we saw all of you studying. .... unfortunately it was all for nothing..... tonight kicks off Prank Week
Head of Household Competition: "Prank Shot"
Julie - the power is now TRULY up for grabs. Before we get started, this is Prank Week, you need to know that this week, America will be voting to Prank whoever becomes HoH. Be warned, that even though, the HoH will be completely safe this week, their HoH duties will be effected.
Step up, roll your ball, beneath the plank are numbered slots, your score will be where your ball comes to rest. House Guest will highest score will be HoH. House Guests with the 2 lowest scores will receive a punishment.
Holly up first - scores a 50 ( max score possible )
Cliff - scores 18
Nick - scores 34
Nicole - scores 18
Christie - scores 21
Jessica - scores 3
Tommy - scores 41
Holly is the new Head of Household



Julie - I need to confirm, the THREE people that are going to get a punishment are ... Jessica, Nicole and Cliff ( since Nicole and Cliff tied with 18 )
Julie - you now have the chance to Prank Holly's Head of Household by giving another House Guest half her power.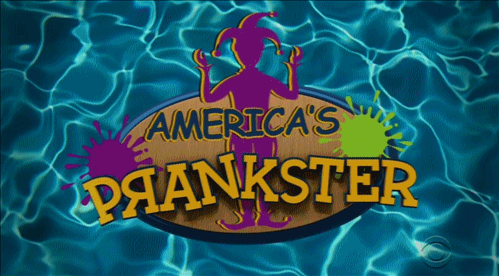 Whoever is chose as "America's Prankster, will prank the Head of Household by secretly controlling one of the nominees for eviction this week. America's Prankster will secretly chose one of the house guests for eviction at this week's Nomination Ceremony. And, they will also chose a replacement, if their nominee is taken down, during the Veto Meeting.
So, who do you want to be America's Prankster?
And.. Zingbot is back!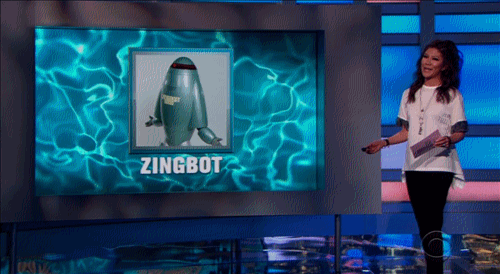 Zingbot will show up for Saturday's Power of Veto Competition ... ( which will air on Wednesday )
The drama continues on the Live Feeds....
Why not try the Live Feeds for FREE! Just click on any of the Live Feed Banners right here at BBU to start your sign up process.
We truly appreciate your support by grabbing your
FREE TRIAL
of the Live Feeds ( CBS ACCESS ) by clicking on any of the links and/or banners right here. It's the ONLY way that we get credit for your subscription
Signing up for CBS ALL ACCESS not for you right now?
Like what we do here?
Like the Discussions?
Like our Live Feed Updates?
Like having a great place to call your home away from home for this new season of Big Brother?
A great way to support this website is by making a donation via our PayPal link. It's safe, easy and secure to use. We appreciate any support!
If you are not a registered member of BBU, we invite you to register and join us.
Join in on a discussion in our Live Feed Discussion Forum HERE
Check out our Live Feed Updates HERE
And, don't forget to follow us on Twitter -
https://twitter.com/BBrotherUpdates
As always, thanks for reading!
Lexie