CBS Big Brother 21 DOUBLE EVICTION TONIGHT! That's right, it's a weeks worth of Big Brother in one night! Well start with the Live Eviction, play a Head of Household Competition, followed by Live Nominations, Live Power of Veto Competition, Live Veto Meeting and end with yet another Live Eviction tonight! We'll update you right here with all the winners and losers! Keep reading to find out all the Live Results! You know, it's not too late to try the Live Feeds for FREE! The drama inside the Big Brother 21 house is full force. Watch all the drama play out LIVE! There's never been a better time than now to try the Big Brother
Live Feeds with CBS All Access
. Don't miss a minute of ALL the DRAMA inside the Big Brother 20 house. Try the
Live Feeds FREE for one week
and catch ALL the DRAMA inside the Big Brother 21 house. Get your
CBS All Access
for an inside look like never before. Try the feeds for Free for one week!
Click HERE
or on any banner or link right here at BBU to start the process and sign up today. By clicking on the links/banners here you help support all that we do. We truly appreciate any support!
It's Double Eviction Night BABY!!
Grab a seat and join us in our Live Episode Discussion Forum HERE
Julie "surprises" the House Guest with Tonight's Double Eviction by telling them that there will be NO Jury Battle Back.
Julie - tonight is Double Eviction. A week's worth of Big Brother in one night, Eviction, Live HoH, Live Nominations, Live Veto Competition, Live Veto Meeting, and yet another Live Eviction.
Live Voting:
Holly - Jessica
Nicole - Jessica
Christie - Jessica
Tommy - Jessica
By a vote of 4-0 .. Jessica has been evicted from the Big Brother 21 house and becomes the 4th member of the jury.
Julie to Jessica- you're not surprised to be sitting here?
Jessica- no, not at all.
Julie - how big of a mistake did Jackson make by targeting you?
Jessica says she thinks she will see him out there tonight
Julie tells Jessica she will talk to her more in the After Show.
Head of Household Competition: "On Thin Ice"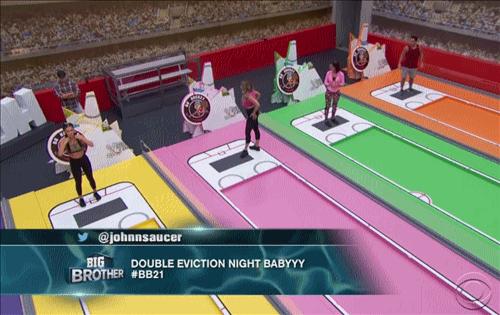 Build your ice rink puzzle, once built, grab your hockey stick and make a goal, first house guest to make a goal, becomes the New Head of Household.
Nicole in the lead all the way,
Nicole finishes her puzzle first, missed the first attempt at a goal.
Tommy coming for her quickly
Nicole shoots and scores!
Nicole is the new Head of Household!
Cliff to Nicole - it's up to you ... no matter what .. I'll support you, but that seems the best thing to do .. but to do it .. you will have to put up either Holly or Jackson ..
Nicole - okay
Nicole to Christie- I need you to trust me.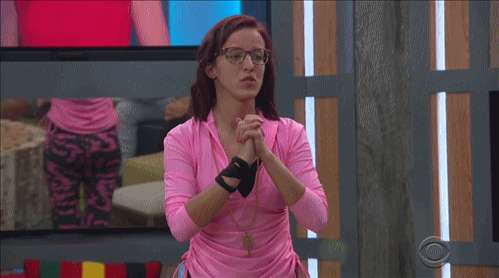 Head of Household Nicole nominated Christie and Tommy for eviction.
Power of Veto Competition - "What the Bleep?"
Watch Video ...
Choose True or False - Bleeped out Phrase
Round 1 - everyone right ..everyone gets a point
Round 2 - everyone right .. everyone gets a point
Round 3 - everyone right ... everyone gets a point
Round 4 - Tommy and Michie wrong ... everyone else gets a point
Round 5 - Holly, Tommy and Michie wrong ....
Cliff, Christie and Nicole tied for 1st place
Round 6 - Holly and Nicole wrong
Time for the lead with Christie and Cliff with 6 ...
Nicole - 5 points
Last Round -
Cliff wins the Power of Veto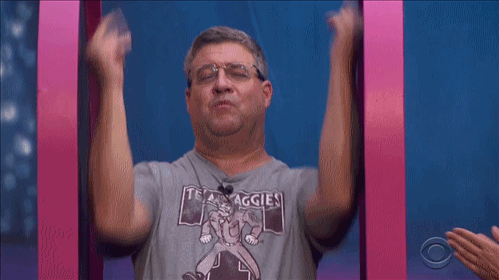 Cliff to Nicole - I'm not changing it .. keeping Christie and Tommy up. Send Christie home ...Okay with you?
Nicole - yep
Tommy to Cliff -you want to talk?
Cliff- I'm going to keep it the same
Power of Veto Meeting
Cliff does not use the Veto.
Christie and Tommy remain on the block.
Jackson during Christie's plea to keep her ....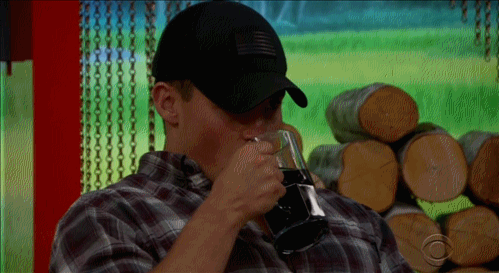 Live Voting:
Jackson- Christie
Holly- Christie
Cliff - Christie
By a vote of 3 -0, Christie has been evicted and becomes the 5th member of the jury.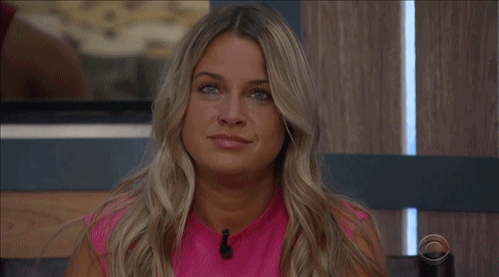 Julie - you looked surprised when Nicole told you that you might find yourself up there... were you?
Christie- yeah .. how was that good for her game? Michie is going to win. ... he deserves it,,, he's amazing
Julie - between you and Tommy.... did they make the right decision in evicting you?
Christie - I don't think so..... Tommy is the one who took me off of the block twice. .. I'm not winning any vetoes
Julie tells Christie that the viewers know that she and Tommy know each other outside of the game...
Julie to Christie - you were in a serious relationship with a family member of his .... do you think that the fact that you know him... ultimately hurt your game or helped your game?
Christie- I feel I had a piece of home at all times. I feel that he kept me sane .. talked me down from the ledge...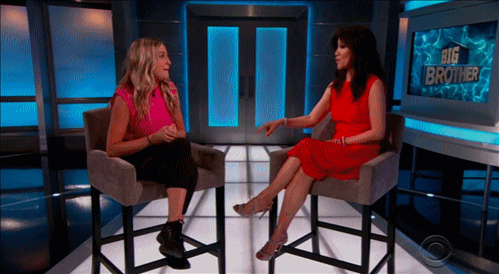 Julie- - why did the universe evict you tonight,.....
Christie - the universe evicted me.. because it was my time... maybe I am not supposed to win and Tommy is
Julie announces that Bayleigh and Swaggy will host BB Comics ... for the Veto Competition this week
The drama continues on the Live Feeds....
Why not try the Live Feeds for FREE! Just click on any of the Live Feed Banners right here at BBU to start your sign up process.
We truly appreciate your support by grabbing your
FREE TRIAL
of the Live Feeds ( CBS ACCESS ) by clicking on any of the links and/or banners right here. It's the ONLY way that we get credit for your subscription
Signing up for CBS ALL ACCESS not for you right now?
Like what we do here?
Like the Discussions?
Like our Live Feed Updates?
Like having a great place to call your home away from home for this new season of Big Brother?
A great way to support this website is by making a donation via our PayPal link. It's safe, easy and secure to use. We appreciate any support!
If you are not a registered member of BBU, we invite you to register and join us.
Join in on a discussion in our Live Feed Discussion Forum HERE
Check out our Live Feed Updates HERE
And, don't forget to follow us on Twitter -
https://twitter.com/BBrotherUpdates
As always, thanks for reading!
Lexie