CBS Big Brother 21 Live Eviction and <cough> Endurance Head of Household Competition spoiler results! Who was evicted from the Big Brother 21 house tonight? Who is the new Head of Household? Keep reading to find out! We're down to the end of the game and everything is on the line for these house guests. And, lucky for you, it's not too late to try the Live Feeds for FREE! The drama inside the Big Brother 21 house is full force. Watch all the drama play out LIVE! There's never been a better time than now to try the Big Brother
Live Feeds with CBS All Access
. Don't miss a minute of ALL the DRAMA inside the Big Brother 20 house. Try the
Live Feeds FREE for one week
and catch ALL the DRAMA inside the Big Brother 21 house. Get your
CBS All Access
for an inside look like never before. Try the feeds for Free for one week!
Click HERE
or on any banner or link right here at BBU to start the process and sign up today. By clicking on the links/banners here you help support all that we do. We truly appreciate any support!
Julie Chen - it has been an absolutely crazy day in the Big Brother house.... and the craziness is still going on right now. We've never seen a Final 5 this intense.... but no matter what's happening right now.... these outsiders... are running the show! Welcome To Big Brother!
Julie- I was just listening in live in the house and right now... Cliff and Nicole are STILL undecided as to what they are going to do tonight.
Live Voting:
Nicole - Tommy
Cliff - Tommy
Tommy has been evicted from the Big Brother 21 house.
Julie to Tommy - you said to Jackson' You got me"
Tommy- yeah it was all lies...
Tommy explains how Jackson came up with a lie that lead to his eviction.
( Julie says that YOU will see it all on Sunday Night's episode ... all the crying/lying )
Julie - did they make a mistake, evicting you?
Tommy- time will tell ... I wanted to team up with Cliff and Nicole ... but it didn't work out ..
Julie asks Tommy why he revealed that he knew Christie ...
Tommy - I don't know why .. it was a mistake for sure ... probably a $500,000 mistake and I'm going to have to live with that.
Julie - if you had control, who would you have taken to the F2?
Tommy- Nicole, she's a great game player ...
Julie - do you think that you could have beaten her in a F2?
Tommy- I don't know ....
Head of Household Endurance Competition: "Crash and Turn"
Jackson does NOT play
The winner is guaranteed a spot in the F3 and can play in the next HoH
competition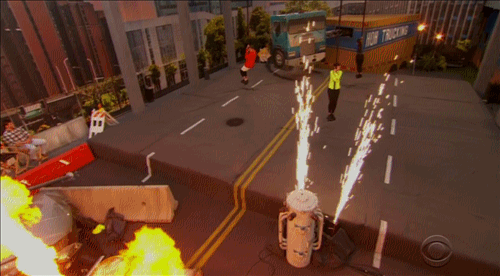 The Endurance Head of Household Competition will play out on the Live Feeds....
Well.. it WOULD HAVE .. but before you could blink ...
Cliff was down .. Holly was down and Nicole became the New Head of Household...
Yes.. Nicole won the <cough> endurance Head of Household Competition.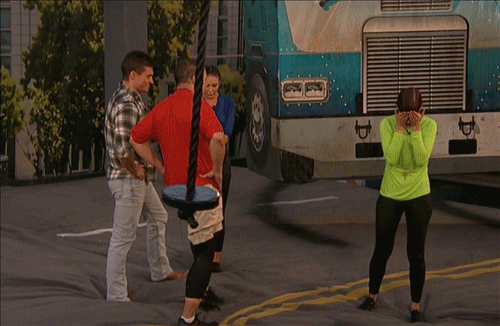 Signing up for CBS ALL ACCESS not for you right now? ( Probably not .. right? ... lol )
Like what we do here?
Like the Discussions?
Like our Live Feed Updates?
Like having a great place to call your home away from home for this new season of Big Brother?
A great way to support this website is by making a donation via our PayPal link. It's safe, easy and secure to use. We appreciate any support!
If you are not a registered member of BBU, we invite you to register and join us.
Join in on a discussion in our Live Feed Discussion Forum HERE
Check out our Live Feed Updates HERE
And, don't forget to follow us on Twitter -
https://twitter.com/BBrotherUpdates
As always, thanks for reading!
Lexie