CBS Big Brother All Stars Eviction and Head of Household Competition tonight! That's right, it's eviction night in the Big Brother 22 house and we're here for it! It's time to get these All Stars playing like All Stars, don't you think? Who was evicted and who is the new Head of Household? Keep reading to find out! And... don't miss, your chance to try the Live Feeds for FREE for ONE MONTH is almost over! There's never been a better time than now to try the Big Brother
Live Feeds
. Take advantage of a great offer and watch the Big Brother All Stars in action by getting
ONE MONTH FREE of CBS All Access
aka the
Live Feeds
if you sign up before August 16, using the promo code "
Play
". Please make sure to click on one of our links and/or banners to get you there. That click and your sign up, will help support this website and all that we do here, so thanks for clicking and signing up and you know there's really no other way to watch Big Brother!
Voting:
David - ( his first vote in the Big Brother House ) - votes to evict Keesha
Nicole A - Keesha
Ian - Keesha
Nicole F - Keesha
Tyler -Keesha
Christmas -Keesha
Kaysar -Keesha
Bayleigh - Keesha
Da'Vonne - Keesha
Janelle -Keesha
Enzo - Keesha
Dani- Keesha
Memphis - Keesha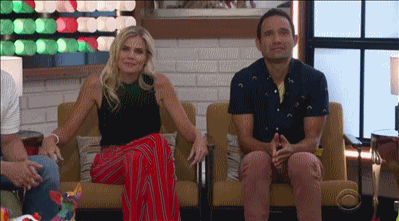 By an unanimous vote Keesha has been evicted from the Big Brother house.
Before Keesha leaves the house ... Julie reminds that the evicted house guest to "social distance" and put on a mask.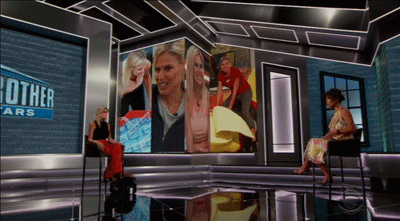 Julie - why did you say that I wish "most" of you well.. who are you not wishing well?
Keesha- people told me that they were going to let me know and then ... everybody avoided me.
Julie- Want to name names?
Keesha - Enzo and Cody both told me that they would come to me and let me know either way and they didn't ... they avoided any room I walked into ...
Head of Household Competition - "Big Brother Watch Party"
Julie -last HG standing after 7 questions, will be the new Head of Household.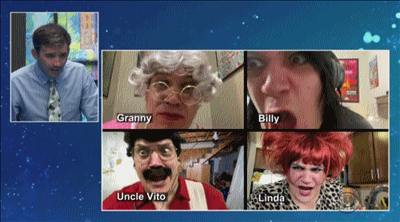 The HG watch a video and then answer True or False questions ...
Question 1 - Kaysar and David are out.
Question 2 - Dani and Enzo are out
Question 3 - Nicole F and Christmas are out
The remaining HG watch a second video
Question 4 - Kevin is out
Question 5 - Janelle and Ian are out
Question 6 - Nicole A, Tyler, Bayleigh and Da'vone are out
Leaving Memphis as the new HoH
Julie's (mysterious ) parting words " Remember, the Golden Rule, do unto others as you would have them do unto you." Goodnight.
The drama continues on the Live Feeds!
Grab that 1-Free-Month promo of the CBS All Access Big Brother Live Feeds.
Click HERE to get started
or on any of the Live Feed ( CBS All Access ) banners (ads ) here on the site. - ** new subscribers only for BBU to get the credit for your signup
Use promo code: PLAY
Be sure to use our links (banners ) to sign up ... so that BBU will get the credit for you.
Why not join us in a conversation in our
Forums
and tell us what you think Memphis will do with his new role as HoH.
Like what we do here?
Like the Discussions?
Like our Live Feed Updates?
Another great way to support this website is by making a donation via our PayPal link. It's safe, easy and secure to use. We appreciate any support!
If you are not a registered member of BBU, we invite you to register and join us.
And, don't forget to follow us on Twitter -
https://twitter.com/BBrotherUpdates
As always, thanks for reading!
Lexie