CBS Big Brother All Stars Nomination Results! The nomination ceremony is over and we have the results. The new Head of Household said there are two ways that they could go with their nominations - . make it an easy week or pull the trigger on someone that they think is a threat. Which two house guests are nominated for eviction? And, when you keep reading to find out, stop over on our Live Feed Discussion thread in our Forums and tell us which way do you think the new HoH went, the easy way or the pull the trigger on a threat way? Don't miss, your chance to try the Live Feeds for FREE for ONE MONTH is almost over! There's never been a better time than now to try the Big Brother
Live Feeds
. Take advantage of a great offer and watch the Big Brother All Stars in action by getting
ONE MONTH FREE of CBS All Access
aka the
Live Feeds
if you sign up before August 16, using the promo code "
Play
". Please make sure to click on one of our links and/or banners to get you there. That click and your sign up, will help support this website and all that we do here, so thanks for clicking and signing up and you know there's really no other way to watch Big Brother!
Head of Household Memphis nominated David and Nicole A. for eviction this week.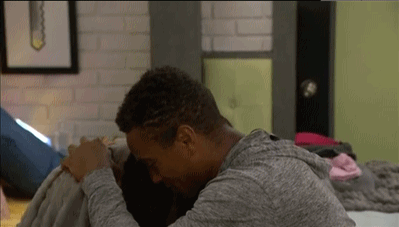 Easy way or pull the trigger on a threat way .... which do you think?
Why not join us in a conversation in our
Forums
and tell us what you think!
David to Tyler - I'm going to ****ing destroy him ( Memphis ) ... it's game time
Tyler - he (Memphis) is going to make damn sure you go home this week... he's going to try his hardest after that. ... that's how not to do an HoH
David to Nicole F - it's just his words.... what did I do to you (Memphis)?
Nicole F - nothing...
David - I'm not mean to him.... where's the hate coming from?
Nicole F - I'm sorry.... he should never have said that
Memphis to Janelle and Kaysar- the thing about David is.... this is All Stars.... every person in here has been here before and put in a lot of work to get far....he hasn't .... he hasn't seen it ... he doesn't know it ... I'm not ganging up on the guy...... I'm already on hit **** list.... might as well double down
Cody to Dani and Enzo - I feel bad for David getting hammered and hammered.
Dani - I feel so bad for him
Enzo - that **** was weird
The drama continues on the LIVE FEEDS!
Grab that 1-Free-Month promo of the CBS All Access Big Brother Live Feeds.
Click HERE to get started
or on any of the Live Feed ( CBS All Access ) banners (ads ) here on the site. - ** new subscribers only for BBU to get the credit for your signup
Use promo code: PLAY
Be sure to use our links (banners ) to sign up ... so that BBU will get the credit for you.
Why not join us in a conversation in our
Forums
and tell us what you think Memphis will do with his new role as HoH.
Like what we do here?
Like the Discussions?
Like our Live Feed Updates?
Another great way to support this website is by making a donation via our PayPal link. It's safe, easy and secure to use. We appreciate any support!
If you are not a registered member of BBU, we invite you to register and join us.
And, don't forget to follow us on Twitter -
https://twitter.com/BBrotherUpdates
As always, thanks for reading!
Lexie