CBS Big Brother All Stars Eviction and Head of Household Competition tonight! Which house guest was evicted? Who is the new Head of Household? Keep reading to find out! Why not join in on a discussion in our forums. With a new Head of Household taking over, there's never been a better time than now to try the Big Brother
Live Feeds
. Take advantage of a great offer and watch the Big Brother All Stars in action by getting
ONE Week FREE of CBS All Access
aka the
Live Feeds
. Please make sure to click on one of our links and/or banners to get you there. That click and your sign up, will help support this website and all that we do here, so thanks for clicking and signing up and you know there's really no other way to watch Big Brother!
Votes: for the 2nd eviction of the summer:
Tyler - Nicole A.
Enzo - David
Christmas - Nicole A.
Kevin - David
Janelle - Nicole A.
Da'vonne - Nicole A.
Kaysar - Nicole A.
Bayleigh - Nicole A.
Cody - Nicole A.
Ian - Nicole A.
Nicole F - Nicole A.
Dani - Nicole A.
By a 10 - 2 vote, Nicole Anthony has been evicted from the Big Brother All Star House.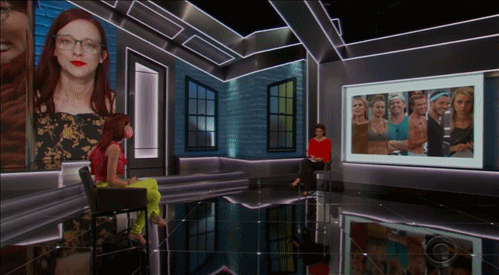 Julie to Nicole A - I'm a little bit confused by your game play.
Nicole A - I really thought they were with Memphis... when I was nominated, I was shocked
Julie - you seemed to not trust them. Why? What did Janelle do wrong, in your mind?
Nicole A - other people got in my head and I was wrong.
Julie - there was a big alliance working to keep David, any guesses who?
Nicole A - Tyler, Cody, Nicole F, Dani, Enzo?
Julie - Enzo voted to save you tonight. FYI
Julie - let's put the pictures of the 6 up that were working together to save David,
Nicole A - oh wow
Julie - Dani, Christmas, Memphis, Tyler, Cody and Nicole F.
Julie tells Nicole A again that Janelle had her back, and even cried over it.
Nicole A says she owes Janelle an apology.
Kaysar's goodbye message - Nicole, we've been trying all week to campaign to keep you in this house..... we feel like we failed you. ....I hope you understand it was never meant to be this way
Janelle's goodbye message - Nicole, you were just a casualty of war unfortunately..... and Memphis really screwed this up. I'm sorry.....
Head of Household Competition - "Mug Shots"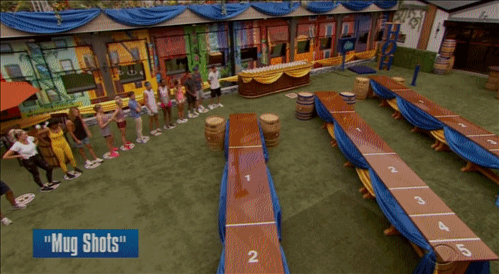 Play one at a time... on the horn .. race to slide one mug down each of the 3 counters.. hit your button and lock in your time, the goal is to land the mug on the highest score ... only 30 seconds to lock in your score ... highest cumulative scores win you the HoH
Cody up first - 18.87 seconds and he scores a 4
Enzo - 15.81 seconds and he scores an 8
David - 16.04 ( he forgot to hit the button ) and he scored 6 points and is eliminated
Christmas - 17.48 and she scores 8 - but not faster than Enzo so she is eliminated.
Da'Vonne - 16.34 and she scored 7 points and is eliminated.
Kevin - 15.71 and scored 7 points - but he's eliminated.
Ian - 15.17 seconds and he scored 10 points and is in the lead.
Nicole F - 16.70 and scored 9 - but not better than Ian so she is eliminated.
Dani - 15.43 and she scored a 4 - she's out
Tyler - 14.07 - scores 11 points and he's in the lead
Bayleigh - 14.82 - scores 7 and is eliminated
Janelle - 12.85 and scores 11 points - she's out
Kaysar - scored a 5 ....
Tyler is the new Head of Household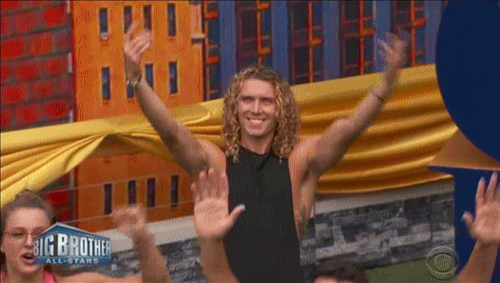 The drama continues on the Live Feeds ... why not try a Free Trial to see Big Brother in a whole new light!
Click HERE to get started
or on any of the Live Feed ( CBS All Access ) banners (ads ) here on the site. - ** new subscribers only for BBU to get the credit for your signup
Be sure to use our links (banners ) to sign up ... so that BBU will get the credit for you.
Why not join us in a conversation in our
Forums
and tell us who you think about this season.
Check out our Live Feed Updates for all the details
on what's happening inside the Big Brother Season 22 All Star house.
Like what we do here?
Like the Discussions?
Like our Live Feed Updates?
Another great way to support this website is by making a donation via our PayPal link. It's safe, easy and secure to use. We appreciate any support!
If you are not a registered member of BBU, we invite you to register and join us.
And, don't forget to follow us on Twitter -
https://twitter.com/BBrotherUpdates
As always, thanks for reading!
Lexie