Big Brother All Stars Eviction and Head of Household Competition is over and we have the results! Who was evicted? And, who is the new Head of Household? Keep reading to find out! Why not join in on a discussion in our forums. And, why not click on a banner to start the sign up process and get the
Live Feeds
.! There's no better way to watch all the drama unfold. The
Live Feeds
give you a fly on the wall look at all the game talk and more inside the Big Brother All Star house. Take advantage of a great offer and watch the Big Brother All Stars in action by getting
ONE Week FREE of CBS All Access
aka the
Live Feeds
. Please make sure to click on one of our links and/or banners to get you there. That click and your sign up, will help support this website and all that we do here, so thanks for clicking and signing up and you know there's really no other way to watch Big Brother!
Julie Chen - Janelle and Kaysar they are one of Big Brother's most historic duos. Tonight they sit side by side on the chopping block..... one stays the other is gone. Welcome to Big Brother All Stars!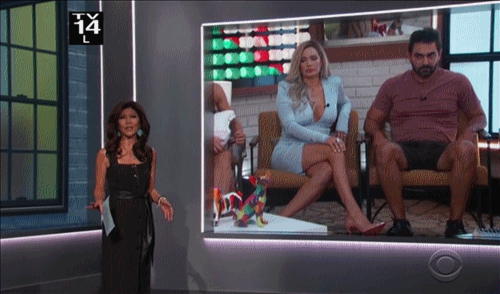 VOTES:
Julie Chen - Dani has no intention of keeping Janelle.
Dani - I vote to evict Kaysar
Julie Chen - oh .. let me get back on script! ... ( LOL )
Julie Chen - there's no love lost between Nicole and Janelle ... NONE.
Nicole - Janelle
Enzo - Kaysar
Da'Vonne - Janelle
Memphis - Janelle
Bayleigh - Janelle
Cody - Janelle
Christmas - Janelle
David -Janelle
Kevin - Janelle
Ian - Janelle
By a vote of 9 - 2 .... Janelle has been evicted from the Big Brother All Star House.
Julie to Janelle- do you hear that? .... those are your fans screaming at the television right now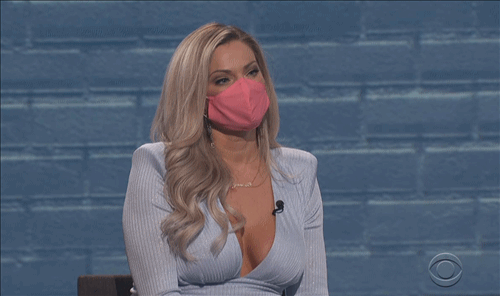 Julie- who do you think were the 2 people that voted to evict Kaysar?
Janelle - Da'Vonne and Bayleigh?
Julie- no ... do you want me to tell you?
Janelle- no let me guess
Julie - okay .. I like this game...
Janelle- Memphis and Kevin?
Julie - no
Janelle - Dani and the ..... New Jersey guy?
Julie- Dani and Enzo .. yes
Julie reveals that Christmas and Memphis were working with Cody, Tyler, Nicole and Dani
Julie -Memphis had a role in your eviction tonight ...
Kaysar's goodbye message to Janelle - I'm going to make sure the alliance that sent you out the door, is going to pay.
Janelle - but he doesn't know ... he's going to tell Memphis everything ... this is terrible.. I'm very worried.
Julie - I just have to defend Da'Vonne, Bayleigh and Kevin, they do love you, but no one wants to make waves right now.
Janelle - oh of course, I mean I understand what kind of players they are and I totally get that.
Head of Household Competition - Carnival Quick Shot
Julie -by random draw, you have been divided into 2 groups of 6 ..
First group of 6 to compete are - Nicole, Da'Vonne, David, Ian, Enzo and Kaysar
Second group of 6 are - Dani, Cody, Baleigh, Kevin, Memphis, Christmas
Each have 3 balls... roll your ball up the ramp .... sink 3 balls ... 1st 3 advance to the final round ...
Final 6 will go head to head in the Final Round ...
First to sink in the Final round .. becomes the new HoH
Round 1- Kaysar is the first to advance
When the feeds finally returned... we find out that ...
Enzo is the new Head of Household
The drama continues on the Live Feeds....
Try the Free Trial and watch it all play out ....
Click HERE to get started
or on any of the Live Feed ( CBS All Access ) banners (ads ) here on the site. - ** new subscribers only for BBU to get the credit for your signup
Be sure to use our links (banners ) to sign up ... so that BBU will get the credit for you.
Check out our Live Feed Updates for all the details
on what's happening inside the Big Brother Season 22 All Star house.
Like what we do here?
Like the Discussions?
Like our Live Feed Updates?
Another great way to support this website is by making a donation via our PayPal link. It's safe, easy and secure to use. We appreciate any support!
If you are not a registered member of BBU, we invite you to register and join us.
And, don't forget to follow us on Twitter -
https://twitter.com/BBrotherUpdates
As always, thanks for reading!
Lexie