Big Brother All Stars Eviction and Head of Household Competition is over and we have the results! Big Brother announced that "a new room in the Big Brother house will be revealed that promises to hake up the game again". Well, I don't know about "again", but at this point, we'll take anything that shakes. Who was evicted? Better yet, did Kaysar out the alliances? Who is the new Head of Household? Keep reading to find out. The drama inside the Big Brother All Star house is building, as more relationships fall apart and let's hope this week, will be the one that breaks it all loose! There's never been a better time than now to try the Big Brother
Live Feeds
. Take advantage of a great offer and watch the Big Brother All Stars in action by getting
ONE Week FREE of CBS All Access
aka the
Live Feeds
. Please make sure to click on one of our links and/or banners to get you there. That click and your sign up, will help support this website and all that we do here, so thanks for clicking and signing up and you know there's really no other way to watch Big Brother! Join us in a discussion in our forums.
"A new room in the BB house will be revealed that promises to shake up the game again"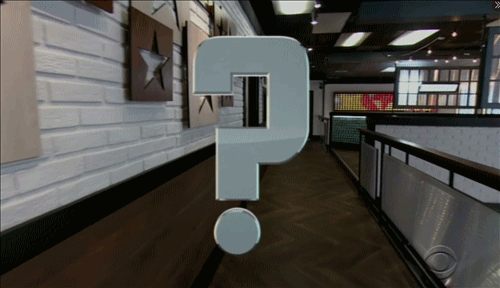 Julie Chen - The BB Basement
Kaysar used his speech to out the Nicole/Cody alliance, the Boys alliance of Tyler, Cody, Enzo and David, and the Nicole/Cody/Dani alliance. ( he labeled that one "a love triangle" ) ( lol )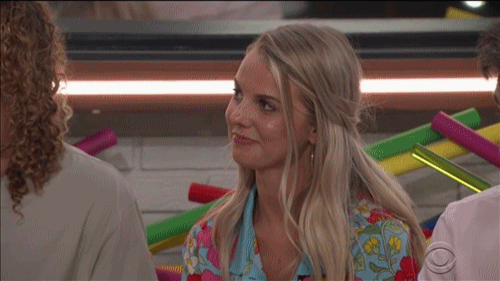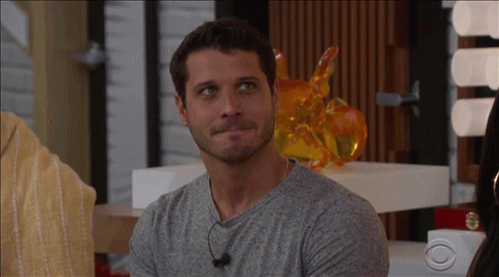 He told them that if they want to play All Stars to keep him, if they want to just want to sit around and have a reunion or play charades, then evict him.
Voting:
Cody - Kaysar
Memphis - Kaysar
Dani - Kaysar
Ian - Kaysar
Kevin - Kaysar
Da'Vonne - Kaysar ( She says she has his back...not to worry )
David - Kaysar
Bayleigh - Kaysar
Nicole - Kaysar (she's rattled)
Tyler - Kaysar
By a unanimous vote of 10-0 - Kaysar has been evicted from the Big Brother All Star house
Kaysar to Julie -you know you want a hug
Julie - I do want a hug ... but air hug .. I am a big fan of yours.
Kaysar -I figured I'd leave them a little present on the way out
Julie- that was an icy hug from Nicole and Dani ...
Kaysar- This season has been extremely friendly.... No one wanted to take a stand. I figured we had to spice things up a little bit cause it was getting a little boring, as far as I'm concerned
Julie reveals that Kaysar and Janelle were right ... but that also Christmas and MEMPHIS are working with the others
Julie - he ( Memphis ) created that alliance
Kaysar- that is a shocker, I didn't see that coming ... no wonder he kept saying there is nothing going on in this house. That's a huge blindside.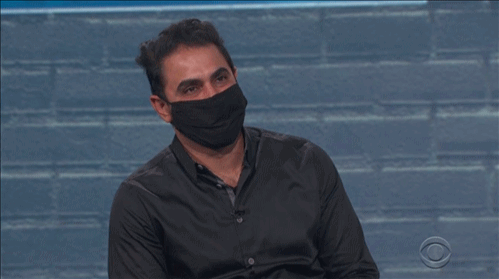 Julie talks to Kaysar about the "deep conversations that he had with Da'Vonne, she tells him they aired them"
Kaysar tells Julie that he did not come back for the money ...he came back to make a difference.... because Big Brother changed his life 15 years ago..
He talks about having a child now .. and says that he's not okay with the way that the world is right now ...
Julie- That is exactly why the public voted you back in.
Kaysar- Oh my God... OH ...
Julie - no.. no ... 15 years ago....back then.. back then
Kaysar - don't make me ... I don't want to go back in, please
Julie - this week there will be no Have Nots
HoH Competition - Filter Face- Off
( it's knock out competition )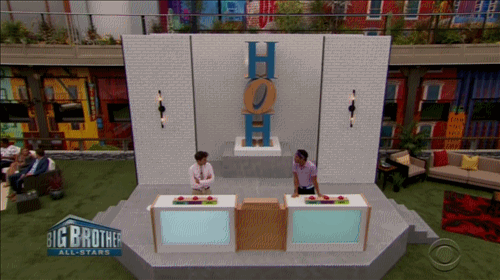 They look a photos of all 16 house guests with filters.. they have to chose More, Exactly or Less
Ian and Kevin are up first
Ian rings in first and is WRONG and out
Kevin picks - Nicole and Cody
Cody rings in and is correct
Nicole is out
Cody picks - Kevin and Da'Vonne
Kevin rings in first - he's WRONG and out
Da'Vonne picks Cody and Memphis
Cody rings in first and he's WRONG and out
Memphis picks Dani and David
David rings in first and is WRONG and out
Dani picks Bayleigh and Da'Vonne
Da'Vonne rings in - she is Correct
Bayleigh is out
Da'Vonne picks Dani and Mempis
Dani rings in first - she's WRONG and out
Memphis picks - Tyler and Da'Vonne
Da'Vonne rings in First and is Correct
Tyler is out
Da'Vonne picks Christmas and Memphis ( they are all that is left )
Memphis rings in first and is WRONG and out
It's down to Da'Vonne and Christmas
Da'Vonne rings in first and is WRONG and out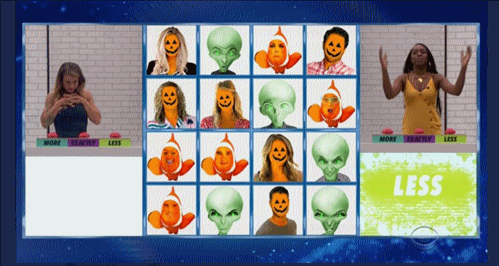 Christmas is the New Head of Household
( She never pushed any button to make any choice )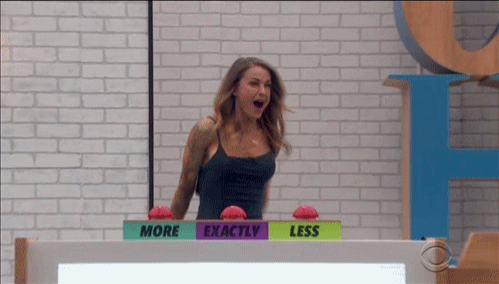 Julie Chen - New room .. the BB Basement .. one competition played in the dark ... will reveal 3 new game -changing powers.
These new powers could change everything.
The drama continues on the Live Feeds...
Why not try the Free Trial and watch it all play out ....
Click HERE to get started
or on any of the Live Feed ( CBS All Access ) banners (ads ) here on the site. - ** new subscribers only for BBU to get the credit for your signup
Be sure to use our links (banners ) to sign up ... so that BBU will get the credit for you.
Check out our Live Feed Updates for all the details
on what's happening inside the Big Brother Season 22 All Star house.
Like what we do here?
Like the Discussions?
Like our Live Feed Updates?
Another great way to support this website is by making a donation via our PayPal link. It's safe, easy and secure to use. We appreciate any support!
If you are not a registered member of BBU, we invite you to register and join us.
And, don't forget to follow us on Twitter -
https://twitter.com/BBrotherUpdates
As always, thanks for reading!
Lexie