Big Brother All Stars Live Eviction and Head of Household Competition Results! Who was evicted? Did Dani play her Replay Power tonight? Can the underdogs pull off an HoH win? Will the Slick Six, keep control? Who is the new Head of Household? Keep reading to find out! Try the Big Brother
Live Feeds
and watch all the drama unfold this week. There's never been a better time than now to try the Big Brother
Live Feeds
. Take advantage of a great offer and watch the Big Brother All Stars in action by getting
ONE Week FREE of CBS All Access
aka the
Live Feeds
. Please make sure to click on one of our links and/or banners to get you there. That click and your sign up, will help support this website and all that we do here, so thanks for clicking and signing up and you know there's really no other way to watch Big Brother! Why not join in on a discussion in our forums, it's a great place to join other BB fans who love to hate the game just as much as you do!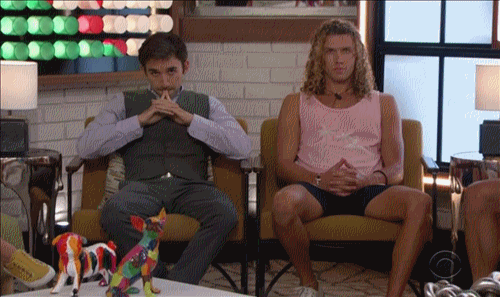 Live Voting:
Christmas- Ian
Enzo - Ian
Da'Vonne - Tyler
Cody - Ian
Kevin - Tyler
Memphis - Ian
David - Tyler
Nicole - Ian
By a vote of 5- 3, Ian has been evicted from the Big Brother All Stars house and becomes the first member of the jury.
Julie- you exicted with class, just like you are dressed tonight, when you hugged Dani, what did you say?
Ian - I said it was a blunder.. and it happens... maybe it was a great play and I just dont realize it
Julie - how are you feeling?
Ian- hurt .. hurt feelings...in the game
Julie- you were told that you were the ultimate pawn .. what do you think happened?
Ian - I think people made the best decision to get a former winner out.
Julie - do you feel betrayed by anyone?
Ian - no .. it's a game.
Ian watched goodbye messages from :
Cody - Ian, I'm so sorry ... you were viewed as a huge threat, as a winner, and not only as a winner, but as someone that everyone respects, you are an incredible player and I really hope there are no hard feeling.
Da'Vonne - if it was up to me .. you would still be here playing this game with me, you are an amazing person, I'm going to miss you, hope to see you soon .. but not too soon.. cause I'm trying to win
Ian laughs
Tyler- IIan,, my man .. I'm in an alliance called the Committe .... it's myself, Cody, Memphis, Dani, Christmas and Nicole .. and they all promised to vote for me... but honestly man.. I'm glad we battled it out ...
Nicole -Ian, I want you to know I worked so hard to keep you in this week, I'm working with a biggergroup of people, I wanted to tell you .. but I just knew if it came out ... my game would absoultely blow up .. I'm so sorry.
Ian - that's good.
Julie - what are you thinking?
Ian - it's good ... I'm estatic ... because for a while.. I thought I was just getting ganged up on by lousy players.. but to see that it was a good plan .. and they got me .. that's awesome.. good for them... kudos
Julie reveals that Dani did not use her Replay Power.
( but we already knew that because of the LIVE FEEDS )
​
HoH Competition: - Hydrant Hustle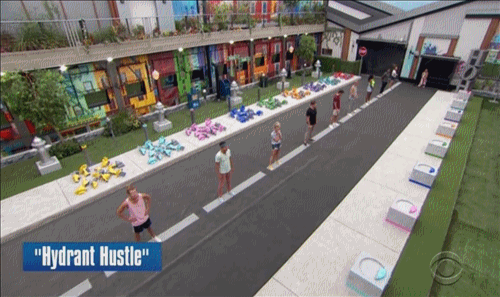 Hustle across the yard, for your Hydrant puzzle pieces.. bring them back to your stand... correctly assmeble your hydrant puzzle... first one to ring in .. is the new HoH.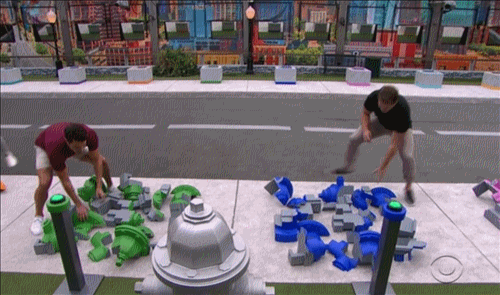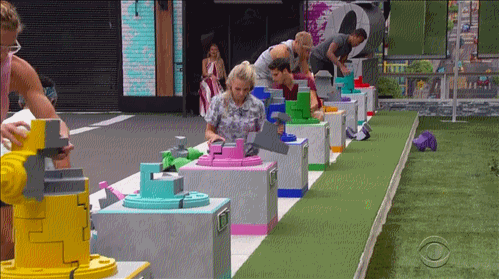 Julie Chen - A Big Brother legend moves into the neighbor's house to shake things up. What does it all mean? Find out Thursday.
The Head of Household Competiton is ongoing ( even though the show ended )
MEMPHIS isthe New Head of Household
Cody and Christmas are Have Nots for the week.
Join us in our forums - You'll find tonight's
Episode Discussion right HERE
and our
Live Feed Discussion HERE
Check out our
Live Feed Updates for all the details
on what's happening inside the Big Brother Season 22 All Star house.​
Take advantage of a great offer and watch the Big Brother All Stars in action by getting
ONE Week FREE of CBS All Access
aka the
Live Feeds
Like what we do here?
Like the Discussions?
Like our Live Feed Updates?
Another great way to support this website is by making a donation via our PayPal link. It's safe, easy and secure to use. We appreciate any support!
If you are not a registered member of BBU, we invite you to register and join us.
And, don't forget to follow us on Twitter -
https://twitter.com/BBrotherUpdates
As always, thanks for reading!
Lexie