CBS Big Brother 23 dives in and makes a splash in it's 90 minute live season premiere. The most impressive news first, for the first time ever, the winner of Big Brother will earn a whopping $750,000! Now that's something to play for and I hope these
16 new house guests
will play hard. The competitions started from the get-go in a head to head battle of 4 sets of house guest all vying for a chance to win their first competition and earn the chance to become the first Head of Household for the season. That's a LOT of FIRSTS! Keep reading as we break all tonight's action down foryou, including which house guest is the new Head of Household and which four house guests are the first Have Nots of the season. But before you go, don't miss - out go ahead and get signed up for the
Live Feeds via the Paramount Plus
Network right here at Big Brother Updates! Not only will you be able to watch the Big Brother Season 23 Live Feeds, you can check out past episodes of Big Brother, a ton of other CBS shows along with a huge selection of Paramount movies. The price has dropped but the content has expanded as CBS has paired with
Paramount+
for all your entertainment pleasure. Including....for the first time, 10 hours of exclusive LOVE ISLAND content, including glimpses into the villa and fiery episodes featuring content too hot for broadcast, will be available to stream. And, of course, BIG BROTHER fans can continue to catch all the action on the
BIG BROTHER Live Feeds.
Get yours today by clicking on any of the
Live Feed links
and/or banners right here at BBU. We appreciate any support you give us by signing up through our links.
Here's a quick breakdown of tonight's events...
Xavier, Frenchie, Travis and Derek F were the first four to enter the house and compete to have the chance of becoming Head of Household
Frenchie won and will be a Team Captain
( which Host Julie Chen revealed to them once all the competitions were complete )
Whitney, Azah, Alyssa, and Britini, are the second group of four to enter the house and compete in their head to head competition.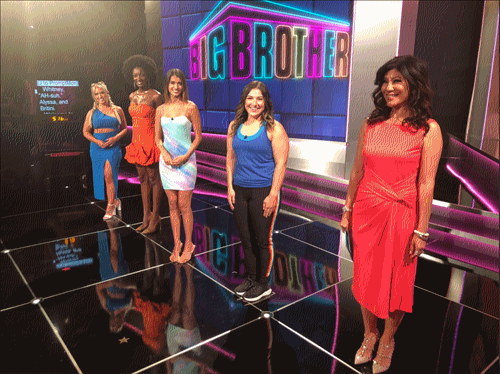 Whitney won and will be a Team Captain
Brent, Kyland, Derek X and Christian, and are the third group of four to enter the house and compete.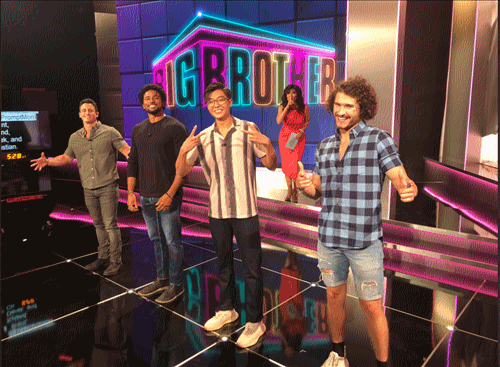 Christian won and will be a Team Captain.
Tiffany, Hannah Sarah Beth and Claire are the final group of four to enter the house to compete head to head in their competition.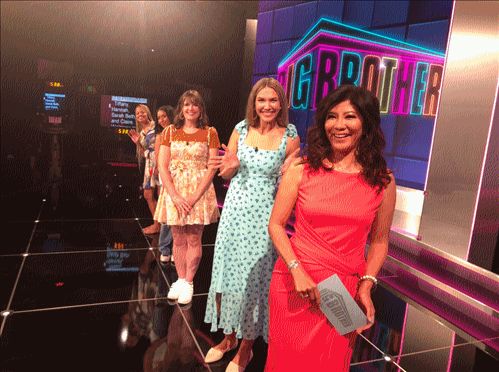 Claire takes the win and becomes a Team Captain.
The teams were chosen by the Team Captains, as they took turns watching a short intro of two house guest, the house guest not chose went back into the running for the other team captains to chose from.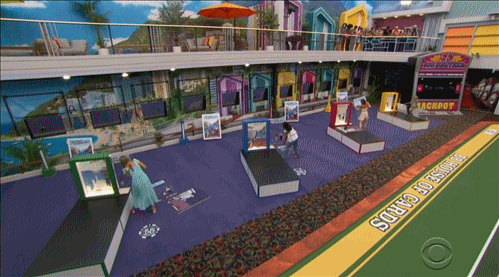 The rule is there must be two girls and two guys on each team.
The Teams:
Jokers: Frenchie, Azah, Britini, Derek F
Aces: Whitney, Brent, Derek X, Hannah
Kings: Christian, Alyssa, Xavier, Sarah
Queens: Claire, Kyland, Tiffany, Travis
The teams competed in the first HoH Competition of the summer.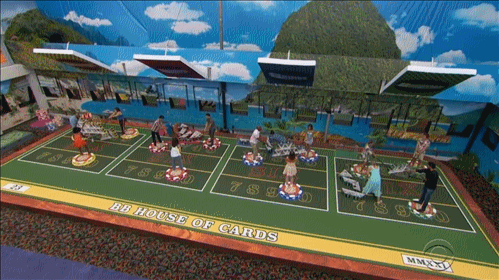 The Team Captain of each team had to build a "house of cards" that was supported by their team members, the first Team Captain to finish is the new HoH and their team members are safe from eviction for the week.
The last team to finish are the Have Nots for the week.
Frenchie's completes his House of Cards first and Frenchie is the first Head of Household for the season. His teammates are safe from eviction.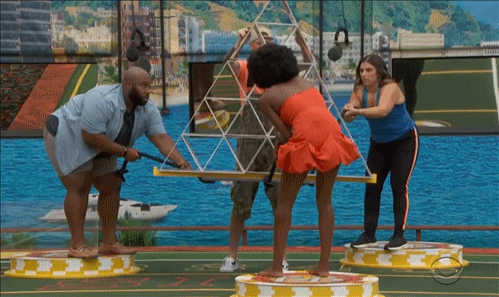 Christian, Alyssa, Xavier and Sarah Beth came in last and the have-nots for the week
The "No Risk, No Reward" theme continued as Host Julie Chen offered Frenchie a double or nothing offer.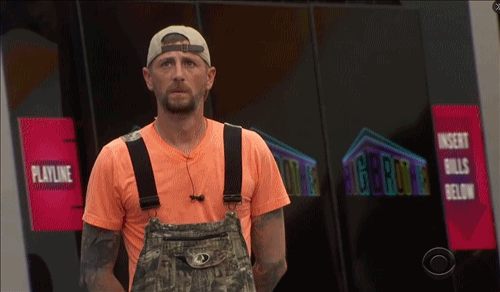 If he could complete the task, of landing two over-sized dice on a table, within the time limit, he and his team would be safe for two weeks. If he failed, he would no longer be HoH and his team would no longer be safe.
Frenchie declined the offer and will remain HoH for the week and his team is safe from eviction.
The Live Feeds are set to begin tonight after the Live Broadcast on the West Coast ( so roughly around 12:30 AM ET - give or take )
Make a splash and get yours FREE FOR ONE WEEK -
You'll get all the drama that the Big Brother Live Feeds have to offer, along with exclusive content of Love Island, Paramount+ Movies and so much more, and if you click on our banners to sign up, you'll be helping to support all that we do here, all summer long! (BBU only gets a small commission for NEW subscribers)
Plus, the price has dropped - you get the same service but LOTS more content!

$4.99 Essential Plan - Includes Live Feeds, but not the live CBS broadcast of Big Brother
$9.99 Premium Plan - Includes Live Feeds, Commercial Free on-demand episodes and Live Broadcasting
Join us in our forums
HERE
to talk about the upcoming premier of Big Brother 23!
Episode Schedule for the week -
TONIGHT - Wednesday, July 7 @ 8 PM (90 Minute Live Move In )
Sunday, July 11 @ 8 PM
Wednesday, July 14 @ 8PM
Thursday, July 15 @ 8PM
Like what we do here?
Like the Discussions?
Like our Live Feed Updates?
A great way to support this website is by making a donation via our PayPal link. It's safe, easy and secure to use. We appreciate any support!
If you are not a registered member of BBU, we invite you to register and join us.
And, don't forget to follow us on Twitter -
https://twitter.com/BBrotherUpdates
As always, thanks for reading!
Lexie