CBS Big Brother 23 live eviction and Head of Household competition tonight! Who was the first person to be evicted this season? Who is the new Head of Household? Keep reading to find out! Plus, this week's Wild Card Competition has a twist. This season, the live feeds have been buzzing, (literally sometimes, right fellow live feed watchers?) why not try them for FREE! Click on any of the Paramount Live Feed Banners or on any of our links to grab that Free One Week Trial of the
Live Feeds via the Paramount Plus
right here at Big Brother Updates! Not only will you be able to watch the Big Brother Season 23 Live Feeds, you can check out past episodes of Big Brother, a ton of other CBS shows along with a huge selection of Paramount movies. The price has dropped but the content has expanded as CBS has paired with
Paramount+
for all your entertainment pleasure. It's just not Big Brother without the
BIG BROTHER Live Feeds.
Get yours today by clicking on any of the
Live Feed links
and/or banners right here at BBU. We appreciate any support you give us by signing up through our links.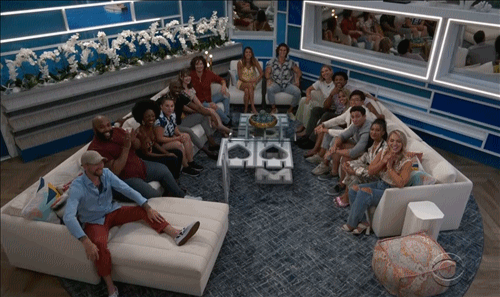 Travis takes off his shirt "one more time" .... before he gives his plea to stay this week ( which turns out wasn't a plea at all )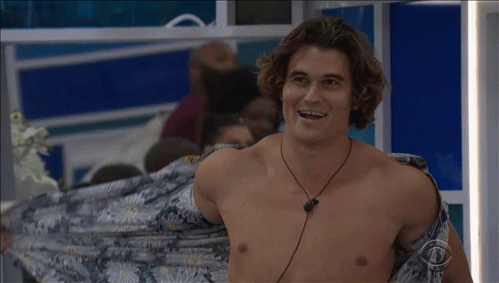 ​
Live Voting:
Sarah Beth - Travis
Xavier - Travis
Whitney - Travis
Christian - Travis
Azah - Travis
Derek F - Alyssa
Kyland - Travis
Tiffany - Alyssa
Derek X - Travis
Claire - Travis
Hannah - Travis
Britini - Travis
Brent - Travis
By a vote of 11 - 2 .. Travis has been evicted from the Big Brother 23 House.
Julie - first one out the door. 2 votes to stay ... what went wrong?
Travis- I always heard that it was always the white guys with abs that gets conched first .. so I kinda had that superstition going in, and I think I kinda went a little too hard off the beat, day one, day two, everyone was getting cray, cray and talking a little too much.
Julie - what viewers didn't see, is that right before we went live, you had a feeling that you were going, and you tried to blow up Frenchie's game.
Travis - yeah, I have a lot of respect for Frenchie. Mr. French is here playing for the fam, and he makes a lot of promises.... but with that... he made a promise to me the first day we entered the house with the boys .. he said "all of you guys are safe on me as a man, I have you guys". I told him straight up, that's a bold claim and ..... and he sure enough did not uphold it... people have to know that
Good bye messages were from from Tiffany, Frenchie, Brent, Derek X
In his goodbye message, Brent told him he was the first victim of the Slaughterhouse alliance.
Head of Household Competition: " Pool Sharks"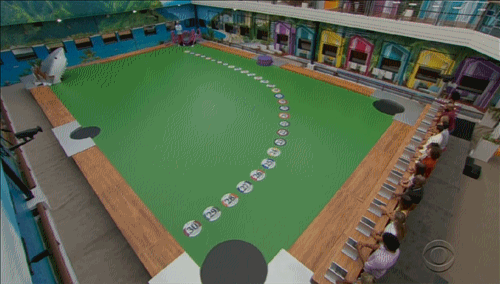 Before anyone shoots, you must first claim a spot, but chose wisely, because with this comes great risk and great rewards.
The the spots get harder as the number increases.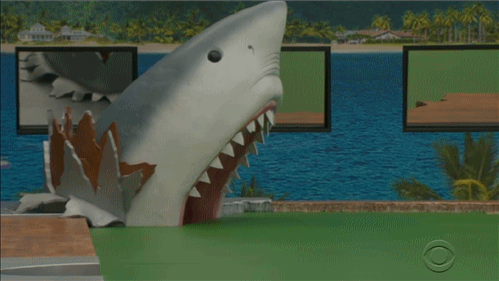 The HoH who sinks their ball in the Sharks mouth from the most difficult spot, wins .... no bank shots.
( we had to go to a commercial break, because they are having "technical difficulties )
Alyssa is first ( shooting from slot 15 ) - she gets it in
Brent is next ( slot 16 ) he gets it in and removes Alyssa
Hannah next ( slot 17 ) she's out
Hannah ( slot 18 ) she's out
Azah ( slot 19 ) she's out
Xavier ( slot 20 ) he's out
Christian ( slot 21 - he misses
Tiffany ( slot 22 ) she misses
Whitney ( slot 23 ) she misses
Claire (slot 24 ) she misses
Kyland ( slot 25 ) he's in ... and becomes the leader, replacing Brent
Britini ( slot 26 ) she's out
Derek F ( slot 27 )
Sarah Beth ( slot 28 ) she's out
Derek X - ( slot 29 ) he's out
Kyland is the new Head of Household
Kyland 's HoH win means that Tiffany and Claire are also safe this week.
But wait...
Who will win the Wild Card Competition?
And...
This week's Wild Card winner will have to decide whether they're willing to switch teams if they want that safety.
Wil they switch for safety?
Who will Kyland nominate?
The drama continues on the Live Feeds....
Jump on in and get yours FREE FOR ONE WEEK -
You'll get all the drama that the Big Brother Live Feeds have to offer, plus Paramount+ Movies and so much more, and if you click on our banners to sign up, you'll be helping to support all that we do here, all summer long! (BBU only gets a small commission for NEW subscribers)
Plus, the price has dropped - you get the same service but LOTS more content!

$4.99 Essential Plan - Includes Live Feeds, but not the live CBS broadcast of Big Brother
$9.99 Premium Plan - Includes Live Feeds, Commercial Free on-demand episodes and Live Broadcasting
Live Feeds not for you ??
Let me bring them to you ...
Like our Live Feed Updates?
A great way to support this website is by making a donation via our PayPal link. It's safe, easy and secure to use.
We appreciate any support!
Join us in our forums
HERE
to talk about the upcoming premier of Big Brother 23!
Check out our Live Feed Updates
HERE
If you are not a registered member of BBU, we invite you to register and join us.
And, don't forget to follow us on Twitter -
https://twitter.com/BBrotherUpdates
As always, thanks for reading!
Lexie