CBS Big Brother 23 Live Eviction and Head of Household Competition tonight! Who was evicted? What it truly the "biggest blind side of the season so far"? Who is the new Head of Houshold? Keep reading to find out! Follow along with all the drama on the BB Live Feeds! Try them FREE! Click on any of the Paramount Live Feed Banners or on any of our links to grab that Free One Week Trial of the
Live Feeds via the Paramount Plus
right here at Big Brother Updates! The price has dropped but the content has expanded as CBS has paired with
Paramount+
for all your entertainment pleasure. It's just not Big Brother without the
BIG BROTHER Live Feeds.
Get yours today by clicking on any of the
Live Feed links
and/or banners right here at BBU. We appreciate any support you give us by signing up through our links. Watching the Live Feeds not for you? Another great way to help support this website and let us keep bringing the live feed updates to you each day, is by making a donation of support by clicking on our PayPal button. We truly appreciate any support!
Live Vote:
Christian - Brent
Azah - Brent
Derek X - Brent
Kyland - Brent
Claire - Brent
Hannah - Brent
Sarah Beth - Brent
Alyssa- Brent
Derek F - Brent
Whitney - Brent
Tiffany- Brent
He got his wish to be part of the biggest blindside of the season ...
By a vote of 11/0 .... Brent has been evited from the Big Brother 23 house
Julie to Brent- you don't look shocked
Brent - no,
Julie- but I was watching you ... before it went live on the air you didn't see this coming did you??
Brent - it was the right play, if you don't get me out, I was going to create a lot of havoc in the house
Julie- what's going through your mind right now?
Brent- umm to be honest, I'm not shocked at all it is a game of betrayal, I've had a target on my back since day one.
Julie - right before commercial you told me you weren't shocked ...
Brent- no
Julie -w hat happened?
Brent - I'm a strong personality.. and obviously since day one.. people have said I look like a threat .. those things just don't go away .. but I haven't even done anything to prove that I'm a physical threat yet .. .. but for people to keep saying that I was an amazing competitor before I even got to really compete, was just a easy way of putting a target on my back.
Julie - your own teammates turned on you .. doesn't that shock you at all?
Brent - no
Julie - you lobbied for the veto not to be used
Brent - yes
Julie- in a game... where lying, backstabbing is common place, why wouldn't you use everything at your disposal to try and get safety?
Brent - the thing is ... needed to know the numbers ... needed to know where the people stood in the house... yeah winning a veto will save me one more week... but then I'd be gone the next week.. my thought process way ... get the data... me taking myself off ... would mean nothing but one more week of safety .. I've already been targeted by a lot of people in the house before.. so it wasn't going to change
Julie - your gut told you ... you were a target.. but then afterwards .. you said your gut was never wrong and you felt safe.. what do you have to say to your gut now?
Brent- the thing is ... my gut felt safe in the team aspect of the game....
He goes on to say that he wasn't surprised that Kyland turned on him .. etc.
Brent - I was working with what I had ...
Goodbye Messages
Xavier - Brent, I do think that you were my biggest competitor, remaining in this house, and that's why I took the shot that I did, and I hope you can respect that.
Hannah - Oh Brent, the #2 rule in Big Brother is.. if you feel too comfortable or safe.. that is usually a good indication that you are going home... so.. this is Hannah speaking from Flight BB23 .. enjoy your flight home.
Derek X - my man., Brent, the house target shifted to you ... and once that started moving ... there was nothing I could do to stop that. It was amazing meeting you.
Alyssa - Brent, I know you told people that you have me wrapped around your finger ... but clearly you are wrapped around mine. Just know that this is all game, not personal ... I czn't wait for you to visit on Halloween.
Tiffany - Brent, I guess you didn't see the Kings coming from the front ( she's using a lot of flight attendant hand signals ) The Queens from the back and the Jokers and the Aces (she hand motions left to right ) to send you out the door to Julie
Julie to Brent - final thoughts?
Brent- like I said .. it's a game... I don't' feel any type of way .. because betrayal, deceit, is part of it .. I would be lying if I said I wasn't doing the exact same thing .. so like I said .. it was best to get me out .. I had a lot of things cooking .... they made the right play... so there you go ...
HoH Competition - Pier Pressure
Playing with your team, race to complete your surf board puzzle, but you must do it one team member at a time, you are on the clock .. the 25 second clock, if your time expires at any time you and your team are out.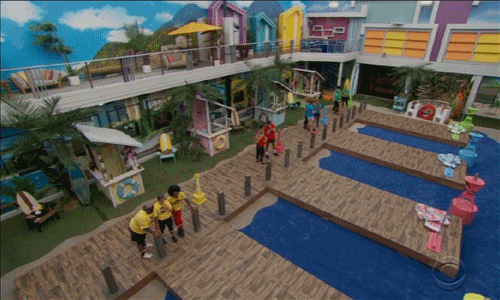 Each person has a 25 second clock, they must run back and hit the reset button before time runs out, in order for their team to continue to try to solve the puzzle....
The winner will be the house guest on the team that puts the final puzzle piece in place and hits their buzzer ...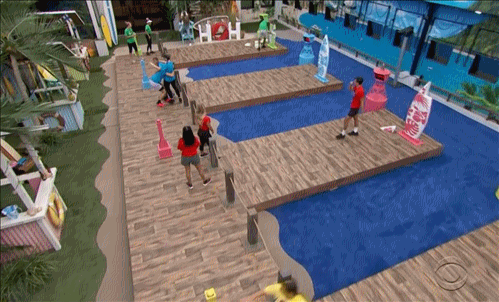 Christian is the new Head of Household!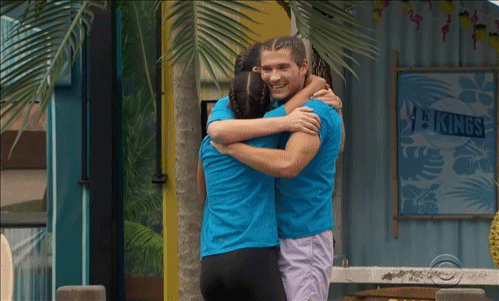 ​
The final Wildcard competition will play out tomorrow...
Julie - will the winner chose safety for themselves but put others in jeopardy?
Next week's HoH .. is first Endurance Competition of the summer ...​​
The drama continues on the Live Feeds....
Jump on in and get yours FREE FOR ONE WEEK -
You'll get all the drama that the Big Brother Live Feeds have to offer, plus Paramount+ Movies and so much more, and if you click on our banners to sign up, you'll be helping to support all that we do here, all summer long! (BBU only gets a small commission for NEW subscribers)
Plus, the price has dropped - you get the same service but LOTS more content!

$4.99 Essential Plan - Includes Live Feeds, but not the live CBS broadcast of Big Brother
$9.99 Premium Plan - Includes Live Feeds, Commercial Free on-demand episodes and Live Broadcasting
Live Feeds not for you ??
​
​​
​
Let me bring them to you ...
Check out our Live Feed Updates
HERE
Like our Live Feed Updates?
A great way to support this website is by making a donation via our PayPal link. It's safe, easy and secure to use.
We appreciate any support!
Join us in our forums
HERE
to talk about the all the drama that Big Brother 23 has to offer.
If you are not a registered member of BBU, we invite you to register and join us.
And, don't forget to follow us on Twitter -
https://twitter.com/BBrotherUpdates
As always, thanks for reading!
Lexie