Big Brother 23 Power of Veto Competition included prizes and punishments! Which house guests played in today's Power of Veto Competition . Who won the Power of Veto? And, who took home the prizes and who has to endure the punishments? Keep reading to find out! This is a great time to try them for FREE, grab your Free One Week Trial of the
Live Feeds via the Paramount Plus
right here at Big Brother Updates! You get a week free and then the lowest price ever of just $4.99 per month, if you chose to keep them! It's just not Big Brother without the
BIG BROTHER Live Feeds.
Get yours today by clicking on any of the
Live Feed links
and/or banners right here at BBU. We appreciate any support you give us by signing up through our links. Watching the Live Feeds not for you? Another great way to help support this website and let us keep bringing the live feed updates to you each day, is by making a donation of support by clicking on our PayPal button. We truly appreciate any support!
Power of Veto Players were:
HoH - Derek X
Nominees - Britni and Sarah Beth
Picked Players - Alyssa, Claire and Kyland
Britini won the Power of Veto Competition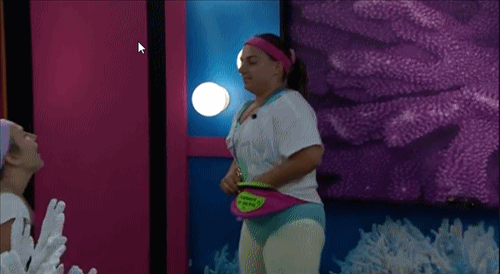 There's some drama..
as Sarah Beth won $5.000 that apparently Derek X could of/should of won .. leaving Derek X with a 24 hour punishment.
**** We'll continue to update the prizes and punishments as they are revealed...
From the live feeds.. it sounds like...
Derek X is the Lord of the Latrine: he has to unlock the bathroom door.. every time.. someone wants to use it ( there's a padlock on it ) ... for 24 hours
Sarah Beth - won a ( very controversial ) $5,000
Alyssa won an iPhone... and Mac book .. along with a phone call this week .. and in 4 weeks.. if she's still in the house.. she gets a video message from her family
Still waiting on these 2 punishment to begin ....
Claire - Duke of the Deck ( no clue on this one )
Kyland - Jackass Club ( has something to do with making club sandwiches )
You can always catch up on what's happening in the Big Brother 23 house with our
Live Feed Updates
And, as always... the drama continues on the Live Feeds....
Jump on in and watch the Endurance Competition play out LIVE .. get your FREE ONE WEEK TRIAL
You'll get all the drama that the Big Brother Live Feeds have to offer, plus Paramount+ Movies and so much more, and if you click on our banners to sign up, you'll be helping to support all that we do here, all summer long! (BBU only gets a small commission for NEW subscribers)
Plus, the price has dropped - you get the same service but LOTS more content!

$4.99 Essential Plan - Includes Live Feeds, but not the live CBS broadcast of Big Brother
$9.99 Premium Plan - Includes Live Feeds, Commercial Free on-demand episodes and Live Broadcasting
Watching the Live Feeds not for you ??
​
​​
​
​​​​
​
​​
​
​​​
​
​​
​
​​​​​
​
​​
​
​​​
​
​​
​
​​​​
​
​​
​
​​​
​
​​
​
​
​​
​
​​​
​
​​
​
​​​​
​
​​
​
​​​
​
​​
​
​​​​​
​
​​
​
​​​
​
​​
​
​​​​
​
​​
​
​​​
​
​​
​
​​​​​​
​
​​
​
​​​
​
​​
​
​​​​
A great way to support this website is by making a donation via our PayPal link. It's safe, easy and secure to use.
We appreciate any support!
Join us in our forums
HERE
to talk about the all the drama that Big Brother 23 has to offer.
If you are not a registered member of BBU, we invite you to register and join us.
And, don't forget to follow us on Twitter -
https://twitter.com/BBrotherUpdates
As always, thanks for reading!
Lexie