Celebrity Big Brother 3 Live Veto Meeting and Live Double Eviction Night! The live Veto Meeting and Live Double Eviction is over and we have the results! Did veto winner Todd Bridges take Head of Household Todrick Hall's advice and not use the veto on himself? Which two Celebrity Big Brother house guests were evicted? Keep reading to find out! If you like what we do here, we appreciate any support you can give, either by subscribing to the
Live Feeds
via any of our
links or banners.
Signing up for a
new Live Feed subscription
gives us a small commission and helps us to keep everything up and running, so we can bring all the Celebrity Big Brother news and updates right to you. If the live feeds aren't for you, we understand and that's okay because we are covering them for you. If you like spending your time here, we appreciate any support and another great and easy way to support this website is by making a donation using our PayPal link..
Power of Veto winner Todd Bridges used the veto on himself... forcing HoH Todrick Hall to name a replacement nominee.
Todrick names Cynthia Bailey as the replacement nominee.
Lamar and Cynthia face the threat of the 1st eviction of the night.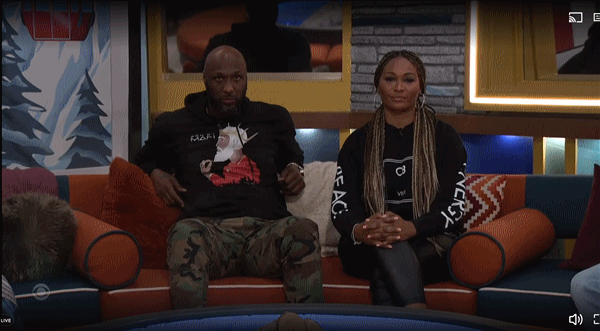 Voting:
Miesha - Lamar
Todd - Cynthia
( Todd told Todrick that he was going to force him to be the one that made the decision to send Lamar or Cynthia home )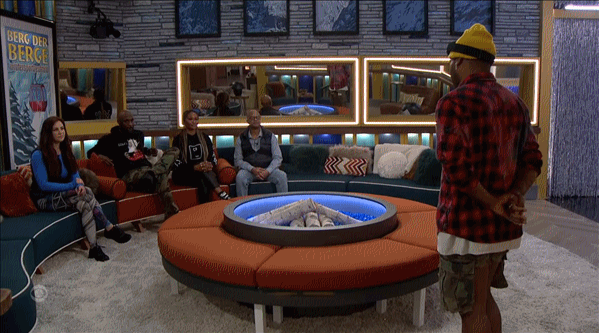 Todrick votes to evict Lamar.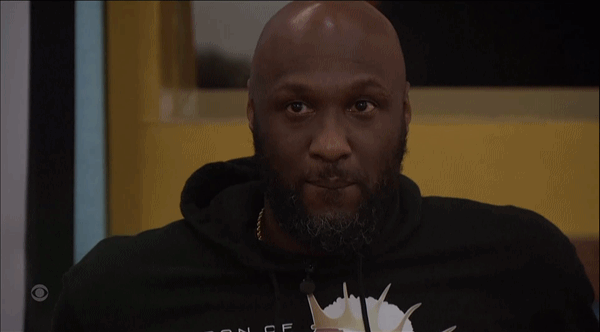 Lamar Odom has been evicted from the Celebrity Big Brother 3 House.
Julie to Lamar - did you think you were going to get evicted tonight?
Lamar - in this game... you really never know..... you have to expect the unexpected ....but I was prepared mentally and physically
Julie to Lamar - at times you seemed a little confused about how to play this game .. did you truly have an ally in this game?
Lamar - I was always by myself.... but that's the way I wanted it to be..... I didn't want to get too close to someone and have cut their throat or slice their wrist at the end of the game....
Julie to Lamar - we did see a really nice friendship between you and Todd Bridges.
Lamar- - yeah .. Todd has been sober for 33 years now,....so I asked him to be my sober coach.... so maybe that's why I joined the Celebrity Big Brother cast.... sobriety is really important to me at this point
Julie to Lamar - we heard you talk about your ex-wife Khloe... I don't know if she's watching right now but,.... if she is,....do you have anything to say?
Lamar - I miss you and I hope I get to see you soon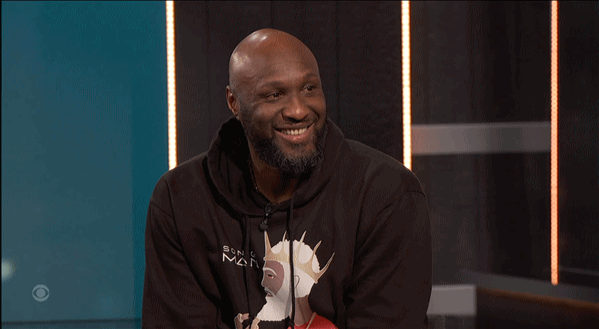 Julie reveals that tonight is a double eviction night ..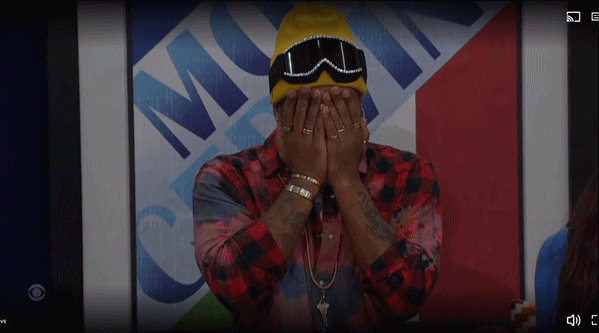 Head of Household Competition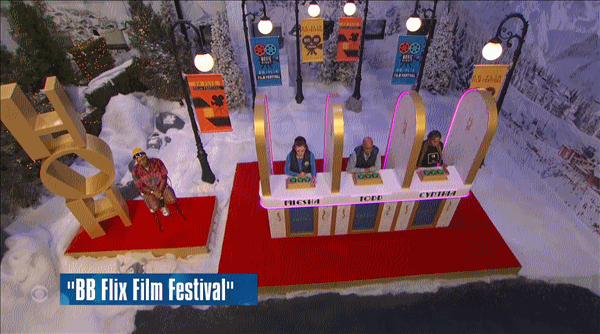 House Guests will be shown 3 film posters and then given a audio of what movie the people want to watch..
7 rounds... 1st person and ONLY the 1st person to ring in FIRST wins a point
They can ring in at any point ...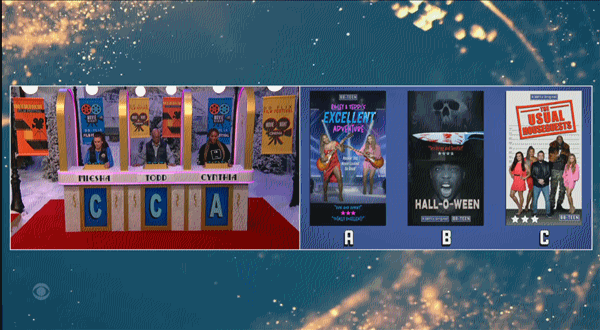 Round 1 - Todd gets the point
Round 2 - Todd gets the point
Round 3 - Miesha gets the point
Round 4 - Cynthia gets the point
Round 5 - Cynthia gets the point
Round 6 - Miesha gets the point
Todd - 2 points
Cynthia - 2 points
Meisha - 2 points
Last Round - Miesha wins Head of Household
Nominations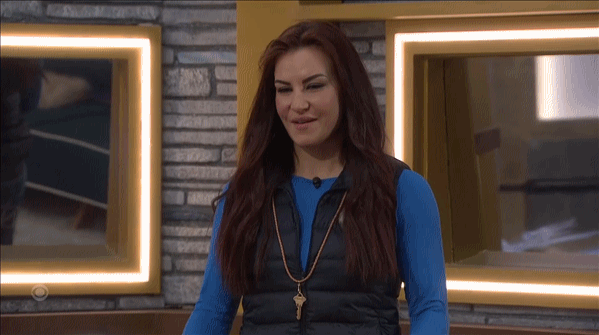 Miesha nominated Todd and Cynthia for eviction .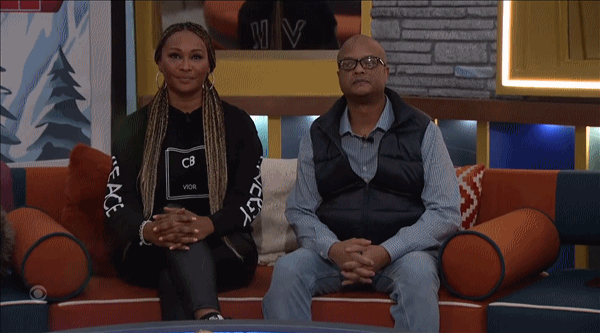 Power of Veto Competition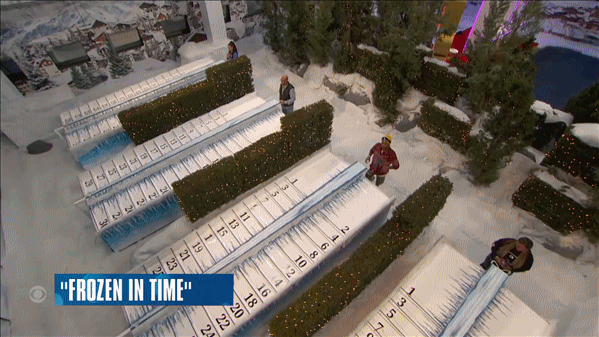 House Guests will roll their ball down the ramp to hit target dates from events in the season.
Correct answer gets a point, if no one is exact the person or persons closest get a point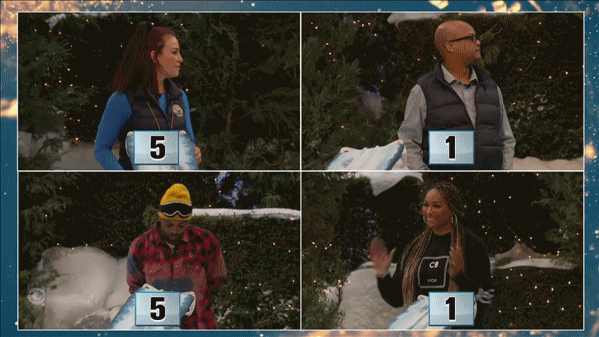 We have a tie ....
Tie breaker question ...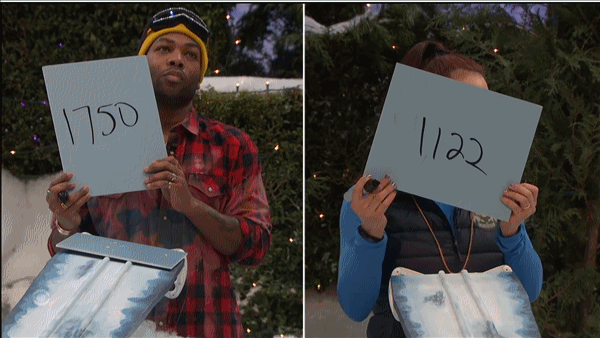 Miesha wins the Power of Veto
Veto Meeting -
Miesha ( of course ) did not use the veto.
Todd and Cynthia remain on the block.
Todrick is the only vote and he votes to evict Todd.
Before Todd left, he told Todrick that he has played the best game in the house.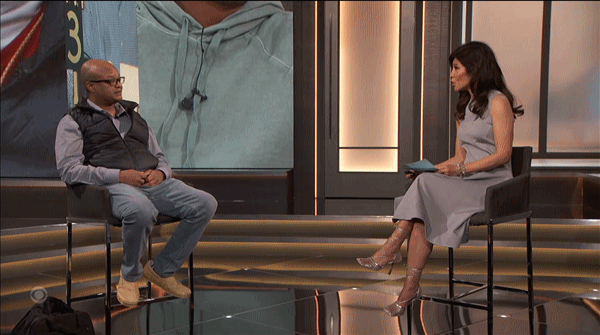 Julie to Todd - you said that Todrick played the best game... do you really mean that?
Todd - yeah .... he worked everyone in the whole house..... he worked me... he worked Carson ... so that no one put him up ...and that's the best way to win this game from when I watched it
Julie to Todd - did you at all feel betrayed by anyone?
Todd- I felt betrayed by Miesha and Todrick at first..... but I know it's a game ....
Julie to Todd - it was really fun watching you and Lamar.... is he a lifelong friend now?
Todd - yes.. he is ... he's definitely a lifelong friend. ....I can't wait to talk to him and see him
Julie tells Todd that she will see him again in 2 days to vote for the winner ...
Todd to Julie- I don't know who I'm giving my vote to yet. ... I have a feeling who is going to be on top.... I promised Miesha it.... but unfortunately I think Todrick played a better game ....so he is probably going to get my vote
Julie tells Todd that he shouldn't reveal that yet ... and tells him again that he will have a chance to vote for the winner
Todd leaves her with a "whatcha talking 'bout Julie:
Julie spoke to the F3 and explained that the 3 will compete in the Final Head of Household Competition, and the winner of that HoH will have the sole vote to evict. Then the F2 will then plead their case to the jury.
She also revealed that there will only be a Jury of 8 voting, so if there is a tie, America will vote to choose the winner.
You can read all the craziness that's happening inside the Big Brother Celebrity 3 house - in our
Live Feed Updates
The drama continues on the Live Feeds ....
Get your Live Feeds now by clicking on any of the
links/banners
right here at BBU.
Live Feeds not for you ??
Like what we do here?
Like spending your time at BBU?
We appreciate any support via our PayPal account - just click the PayPal donate button and follow the easy, safe and secure steps to make your donation.
Your support helps keep BBU up and running and able to bring you all the news and updates on every thing Big Brother.
If you are not a registered member of BBU, we invite you to register and join us.
And, don't forget to follow us on Twitter -
https://twitter.com/BBrotherUpdates
As always, thanks for reading!
Lexie