Nominations for week two inside the Big Brother 24 house are all said and done! We had a volunteer to be a pawn, and a pawn that may not be a pawn, it all just depends on how the Power of Veto competition shakes out. But, for now, there are two new nominees, whose world will be the best or worse ever this week. There's so much more drama to come and you can watch it all unfold on the
Live Feeds
. We'd love for you to click on any of the banner ads here at BBU to get signed up. We gain a small commission fee for any NEW subscribers. Live Feed watching not in your schedule? We're covering them right here for you in our Live Feed Updates Forum, just like we have for the past 23 years. If you like reading the updates, or being part of the live feed discussion threads, another way to help support all that we do here is my making a donation via our PayPal account - just click the PayPal donate button and follow the easy, safe and secure steps to make your donation. All of you are the driving force behind what we do here, and we could not do it without you
Click on the FORUMS button right up there at the top of this page and check out all the house guests and more!
Moderator Kenny has the handy dandy Cheat Sheet all ready for you.
The Episode Discussion and Live Feed Discussion threads are waiting for you!
And, our Live Feed Updates are hot and ready!
In case you missed it ....
Jasmine is the New Head of Household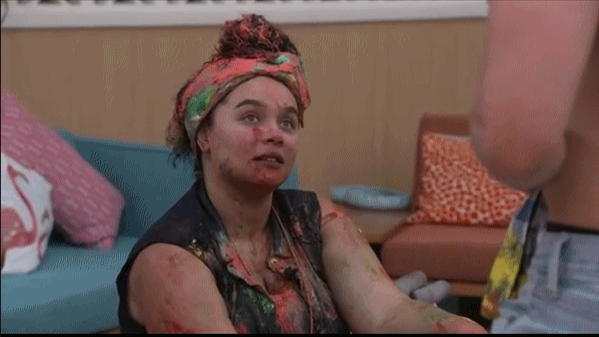 Jasmine nominated Pooch (who volunteered to be a pawn in order to get Taylor out of the house this week) and Taylor who Pooch did not want on the block beside of him, because he did not want her to have any chance to play in the Power of Veto - so much so, that he asked Jasmine nominate Brittay beside him ) but... since Jasmine is the actual HoH..... despite Pooch's "best laid plans" .... it is Pooch and Taylor up for eviction this week.
When they learned that Pooch volunteered to be a pawn, Alyssa and Ameerah, along with Michael saw the perfect opportunity to feed Pooch's ego, get him on the block and maek a plan to blindside him with votes, right out the door.
You can catch up with all the crazy train that brought all this to be right in our Live Feed Updates forum.
The crazy train started on it's track last night, after Jasmine was crowned the new Head of Household _ read where it started
HERE
on Day 9 of the Live Feed Updates and then keep reading to Day 10
HERE
to see how the wheels stayed on track .. to get us where we are now ...
The drama continues on the Live Feeds...
Watching the Live Feeds feeds not for you?
Another way to support this website is by making a donation via our Pay Pal link.
We'll bring all the Live Feed Updates to you in our Live Feed Updates Forum.
Like what we do here?
Like the Discussions?
Like our Live Feed Updates?
We appreciate any support!
Check out our
LIVE FEED UPDATES
to see what the other side of the house is saying about Pooch wanting to go up as a pawn, in order to backdoor Taylor
If you are not a registered member of BBU, we invite you to register and join us.
And, don't forget to follow us on Twitter -
https://twitter.com/BBrotherUpdates
As always, thanks for reading!
Lexie