There's a new Head of Household in charge of the Big Brother 24 house this week! Which house guest accepted the "invitation" to become the new Head of Household? And, who do they not have on their invitation list this week to stay inside the Big Brother 24 house ? We invite you to reading to find out! Plus, if you haven't tried watching the live feeds yet, this is a great time for you to give them a try! Click on any or our
Paramount +
banners right here at BBU, to start your sign up process. By doing that, and signing up as a "New" subscriber, we get a small commission fee, which we use to keep being able to bring all the news and live feed updates to you. The
Live Feeds
are truly where the Big Brother experience begins and ends, so give them a try today! Watching the Live Feeds, not for you? We're covering them right here for you in our Live Feed Updates Forum, just like we have for the past 23 years. If you like reading the updates, or being part of the live feed discussion threads, another way to help support all that we do here is my making a donation via our PayPal account - just click the PayPal donate button and follow the easy, safe and secure steps to make your donation. All of you are the driving force behind what we do here, and we could not do it without you!
Monte is the new Head of Household
And, as part of his trio of Fesite Bestie's, that keeps Joseph and Terrance safe for the week, as well.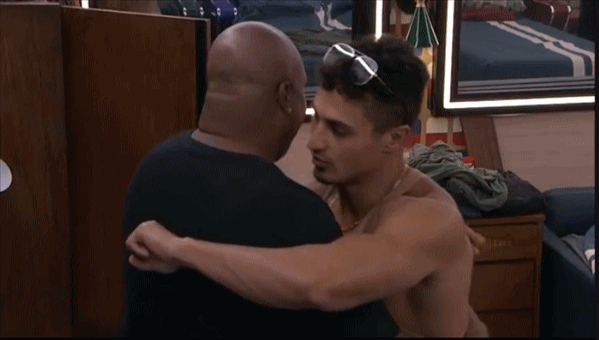 Who does Monte and the Leftovers have their eye on this week as the target?
That depends on which conversation you are listening to.
Jospeh spent the majority of the night, letting everyone know how much he ( and Monte ) want to target Taylor.
(even though the real target would be Nicole, )
He's playing hard ( maybe too hard ) to not let the house know about the "Leftovers".
Joseph even approached Taylor with a hard sale, as to why she should go on the block this week, as a pawn to get Nicole out of the house. Let's just say that she wasn't thrilled at his "invite"
( I know I can't stop .. it's so "inviting" )
Meanwhile, other members of the Leftover alliance were feeling the exact opposite way,
Brittany made her case that they should let Taylor feel included in the alliance, ( by not putting her up this week )
Both, Brittany and Kyle suggested that putting up Indy and Alyssa would be the best bet.
Brittany offered "worse case" Indy/Alyssa win the veto, then they put up Nicole/Taylor to evict Nicole, at least that gave Taylor a minimum amount of "feeling secure" this week.
Kyle offered the same, but with the twist putting up him and Daniel as the replacement nominees, to send Daniel out this week.
What does Monte want to do?
He seems to be leaning towards keeping Taylor off the block, but he also knows that they can't keep Nicole in the house much longer, she was seconds away from winning last night's Head of Household competition, and she's running on revenge.
Monte will make is nominations, later on today.
In the meantime....
Make sure you check out our
Live Feed Updates
to catch up on all the drama that's happened so far!
Watching the Live Feeds not for you, anyway?
A great way to support this website is by making a donation via our Pay Pal link.
We'll bring all the Live Feed Updates to you in our Live Feed Updates Forum.
Like what we do here?
Like the Discussions?
Like our Live Feed Updates?
We appreciate any support!
If you are not a registered member of BBU, we invite you to register and join us.
And, don't forget to follow us on Twitter -
https://twitter.com/BBrotherUpdates
As always, thanks for reading!
Lexie