It's no secret that the Big Brother 24 house guests have deliver the drama this week on the live feeds. And, tonight's events will keep pushing this crazy train down the tracks! Did Monte get the landslide votes against Nicole that he wanted? What did the evicted house guest have to say to Julie Chen? What were the goodbye messages like? And which pair ( or trio ) did the house guest that was not evicted pick to join? Keep reading to find out! If you haven't tried watching the live feeds yet, this is a great time for you to give them a try! Click on any or our
Paramount +
banners right here at BBU, to start your sign up process. By doing that, and signing up as a "New" subscriber, we get a small commission fee, which we use to keep being able to bring all the news and live feed updates to you. The
Live Feeds
are truly where the Big Brother experience begins and ends, so give them a try today! Watching the Live Feeds, not for you? We're covering them right here for you in our Live Feed Updates Forum, just like we have for the past 23 years. If you like reading the updates, or being part of the live feed discussion threads, another way to help support all that we do here is my making a donation via our PayPal account - just click the PayPal donate button and follow the easy, safe and secure steps to make your donation. All of you are the driving force behind what we do here, and we could not do it without you!
Julie - for the second time this summer, a houseguest has purposely put themselves on the block, confident that Taylor will be sent packing. Will they be fooled yet again? Welcome to Big Brother!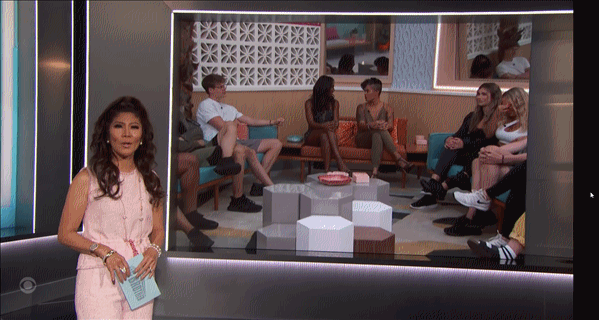 Taylor's speech
Taylor - to my friends and family at home, I know it's been difficult watching my journey in this house, thank you and I promise it ain't over until it's over.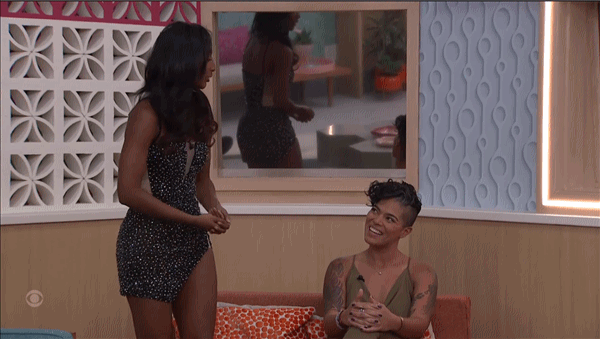 Taylor - Nicole, quote a Big Brother superfan Rihanna 'you look so dumb right now', choosing me as festie bestie you thought was a security blanket, but here you are, both of us, sitting on the chopping block, because your closest ally in the house, thought that you would still be safe.
( Kyle's face )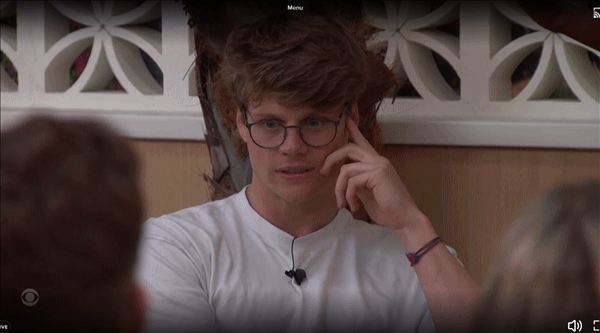 ( Monte and Joseph )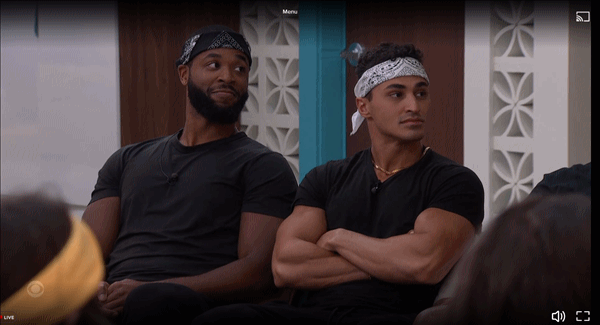 Taylor - To the houseguests, if you keep me in this game, you've always understood where I stand, I've never covered any tracks. I've never tried to misguide or mislead any of you. If you keep Nicole, you'll have someone who thinks that she can thinks manipulate your game and wrap you around her finger, to get what she needs. It's not the game that I chose to play. Moving forward, you will always know where I stand. I love you all, including you Nicole, and I wish everyone here the best.
Live Voting:
Live Voting:
Joseph-Nicole
Terrance -Nicole
Michael-Nicole
Indy-Nicole
Jasmine-Nicole
Daniel-Taylor
Turner-Nicole
Kyle-Nicole
Alyssa-Nicole
Brittany-Nicole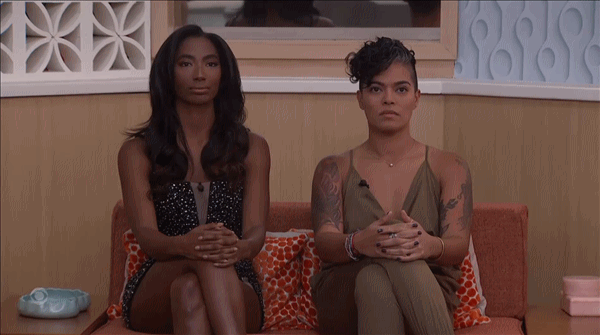 By a vote of 9-1.. Nicole has been evicted from the
#BB24
house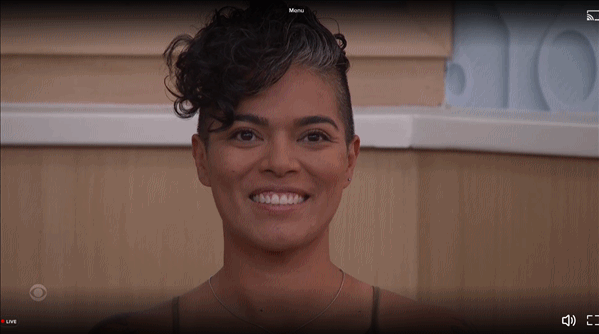 Julie to Nicole - what did you think of Taylor's speech tonight?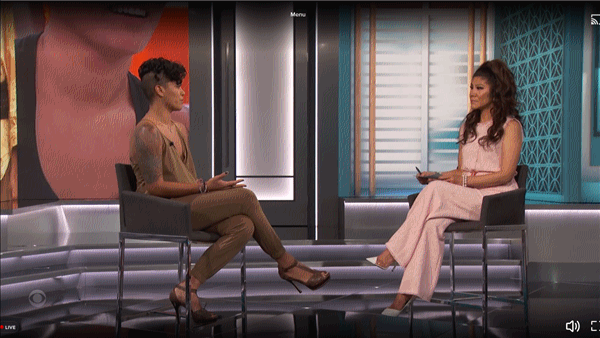 Nicole- I thought it was amazing and comical. She spoke nothing but the truth, I thought that I would be able to manipulate and control her game, which in turn would give me safety. Clearly, the one rule that I didn't follow, is don't play somebody else's game in this house and I did just that.
Julie- play whose game?
Nicole -my alliances game.
Julie- ohhh .. well... let's talk about this, you were in on the plan for Daniel to use the veto to put up you and Taylor on the block. Now, you saw what happened to Ameerah last week
Nicole- yes
Julie- you saw what happened to Pooch the week before. So, why were you so confident that that wasn't going to happen to you?
Nicole - I think what it came down to was .. big risk .. big reward in a sense, but at the same time, I thought that we had the numbers, I thought that we had the numbers to be able to get enough people on our side, to keep me safe, and to finally get Taylor out of the house, because she had been the main target for the last however many weeks.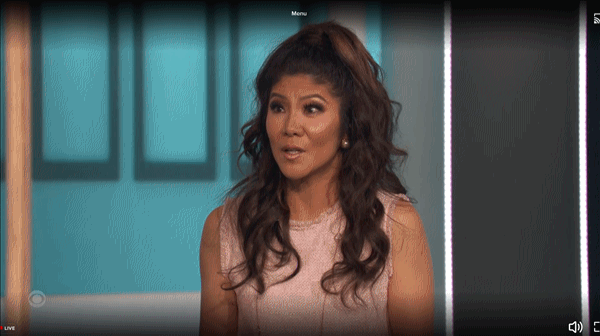 Julie- Nine to One - so ... what do think happened to the numbers that you had?
Nicole- through conversations I realized that there was a larger alliance going on post Ameerah leaving. So, it was a matter of trying to get, who I had personal relationships with and some game relationships with.
Julie- your ride or die Daniel, the two of you were laser focused on getting Taylor out, was that more personal or more strategy?
Nicole - for me it was strategy, because I thought that I was going along with the Po's Pack alliance, that they wanted her out a week ago, so I thought that playing to the advantage of, that they were happy, and making sure that they felt safe, and therefore I felt safe.
Julie- in the last 24 hours you started to get the sense that " I might be the one going home"
Nicole- oh . for sure.
Julie- who do you ultimately think is responsible for you sitting here with me right now?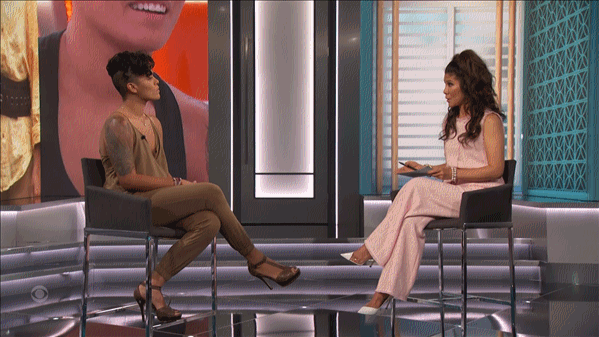 Nicole - oh Monte for sure. We had a conversation before the eviction and he was very clear on why he didn't trust me anymore, and it was because I had a side-alliance outside of Po's Pack, that he was informed of and no one told me that they had informed him.
Julie- well, since you are not a juror, I can tell you specifics, there is an alliance that started to form, the night that you and Daniel, confronted Taylor in the main bathroom
Nicole - ah
Julie- They are made up of 7 people, they call themselves the Leftovers, and they bonded over feeling like they were the low men and women on the totem pole .. and they also wanted to stop, what they felt was the unfair treatment of Taylor in the house and they are the following 7 people.... Monte, Jospeh, Turner, Taylor, Michael, Brittany AND Kyle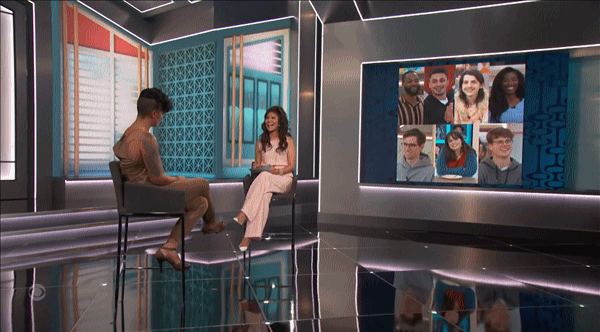 Julie- Does anyone in that 7 that I just revealed, surprise you?
Nicole -not at all .. < long pause> not at all..I walked into the HoH room and brought up my own name for them, and it only included 6 of them.. so Kyle was that 7th person that Daniel and I couldn't figure out, who was part of their group.
Goodbye Messages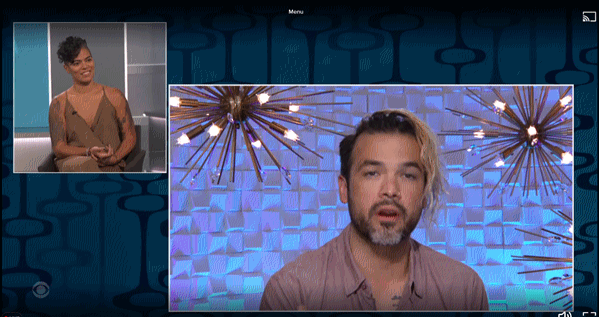 Daniel- Nicole, I only made it this far, because you were in this house. I'm going to lose my mind, without you here and I will not leave this house with a fight. I love you and I cannot wait to see you in the outside world.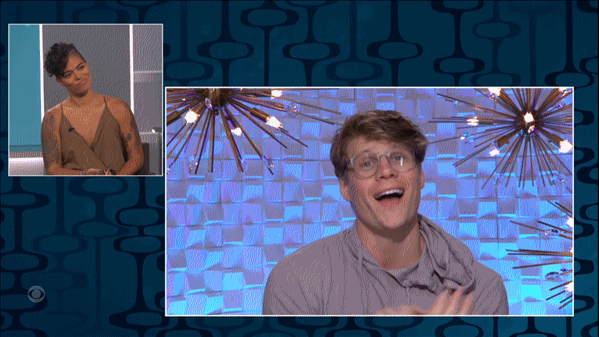 Kyle- Nicole, I'm so sorry! But, I was actually the one that came up with the idea to start a 7 person alliance, that backdoored Ameerah and now got you out this week. I love you and we'll talk after the game.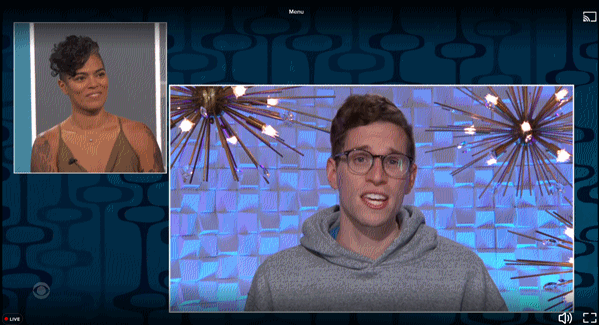 Michael - Nicole, I was part of a new alliance that formed last week. I fought so hard for the veto, no to be used, so that you wouldn't be in this position .. but unfortunately even though I convinced my alliance to leave the noms the same, we couldn't convince Daniel, and that's the reason you were evicted this week.
Taylor- Hey Festie Bestie, hate to see you outside BUT .. never volunteer yourself as a pawn, they always go out before the Queen. See you outside, girl.
Julie to Nicole- Final thoughts?
Nicole- Big Brother is amazing and I'm glad I got to play.
Bestie Choice:
Julie told Taylor that she could chose any of the festie besties to join, including the trio of Monte, Joseph and Terrance.
( Monte, Joseph and Terrance reaction to that news )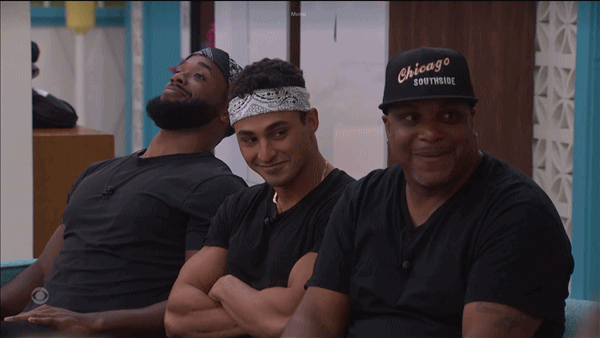 Taylor take her place at the front of the Living Room to pick her Festie Besite
(Michael and Brittay's faces )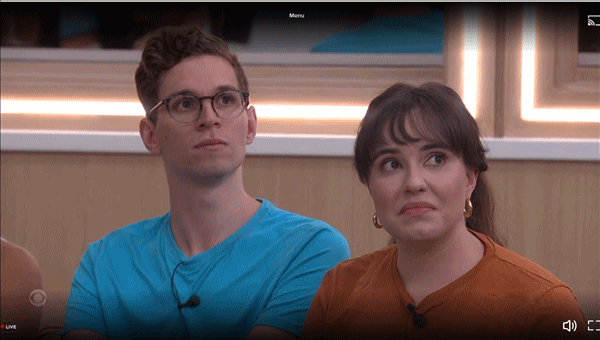 ( Alyssa and Indy's faces )
( as planned ) ...
Taylor chose to join Alyssa and Indy.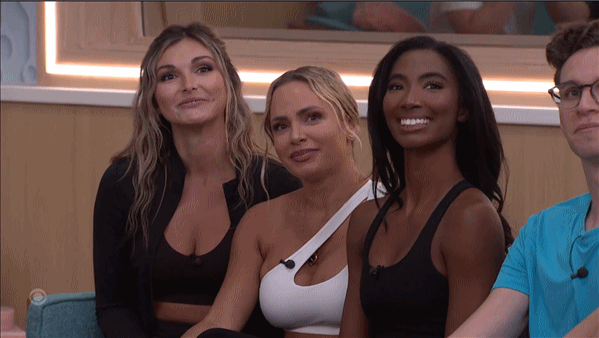 The Head of Household will play out tonight.
We'll update you with the winner, as soon as the live feeds return.
As we "eavesdropped" on the house guests .... they were loud, jubilant, and wondering why they didn't go straight into the HoH competition ...
Except for Daniel ..
Daniel -you guys can't split the check, play for yourself.
Daniel - Daniel - buy my plane ticket ....I'll just start packing my bags now .. ugh .. I have to live with these people.. oh God, just end the season already, as a fan ... this is tragic.
Catch up on all the drama inside the Big Brother 24 house with our r
Live Feed Updates
.. it's there .. . in all it's crazy glory
Like what we do here?
Watching the Live Feeds not for you?
Like the Live Feed Updates?
A great way to support this website is by making a donation via our Pay Pal link.
We'll bring all the Live Feed Updates to you in our Live Feed Updates Forum.
We appreciate any support!
If you are not a registered member of BBU, we invite you to register and join us.
And, don't forget to follow us on Twitter -
https://twitter.com/BBrotherUpdates
As always, thanks for reading!
Lexie