The Live Eviction and ​Endurance Head of Household Competition is over and we have all the results! Who was evicted and who is the new Head of Household? Keep reading to find out! Plus, Julie Chen let us in on another twist that is coming up that will " completely change the game". If you haven't tried the Big Brother Live Feeds, this would be a great time to give them a try! Sign up for the
bb24
Live Feeds by clicking on any or our
Paramount +
banners right here at BBU, to start your sign up process. By doing that, and signing up as a "New" subscriber, we get a small commission fee, which we use to keep being able to bring all the news and live feed updates to you. The
Live Feeds
are truly where the Big Brother experience begins and ends, so give them a try today! Watching the Live Feeds, not for you? We're covering them right here for you in our Live Feed Updates Forum, just like we have for the past 23 years. If you like reading the updates, or being part of the live feed discussion threads, another way to help support all that we do here is my making a donation via our PayPal account - just click the PayPal donate button and follow the easy, safe and secure steps to make your donation. All of you are the driving force behind what we do here, and we could not do it without you!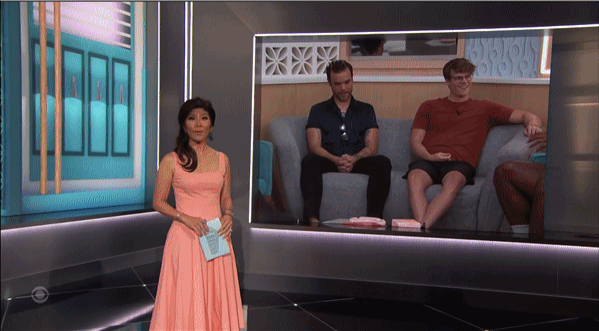 ​
​​
Julie- I will let you in on a secret that will shake up the house in a whole new way. If you thought the house has been divided so far, you haven't seen anything yet.
Daniel gives his speech ...
Daniel - house guests ...please vote to evict me.... I'd rather hang out with Nicole and Paloma than with any of you bozos here today.. this place is a circus and you're all a bunch of clowns... it's time to wake up and realize that Michael has five competitions under his belt.. I'm going to repeat that .. Michael has five competitions under his belt... and he will win this season if you don't go after him next. A smart super fan like Michael knows that you don't go after a strong competitor on the block, you don't change those nominations, unless you're working together .. figure it out. You want me to go do your dirty work, vote to save me. Vote to evict me, and in about 10 minutes, this season get's boring... back to you Julie.
Live Voting
Monte - Daniel
Brittany-Daniel
Turner- Daniel
Alyssa - Daniel
Taylor - Daniel
Indy - Daniel
Jasmine - Daniel
Joseph - Daniel
Terrance - Kyle
By a vote of 8- 1 ...Daniel has been evicted from the Big Brother 24 house.
As he said he would, as soon as Julie said "Daniel" he got up and walked to the door to leave, only turning around to embrace Terrance and whisper something to him ...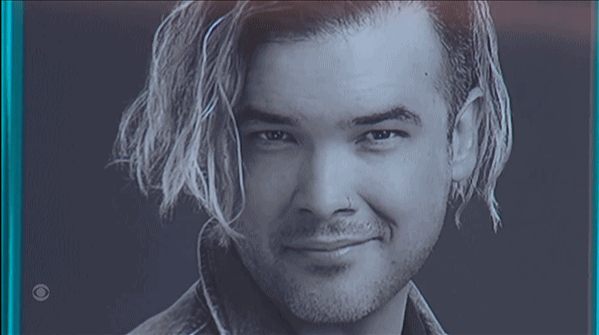 ​
​
​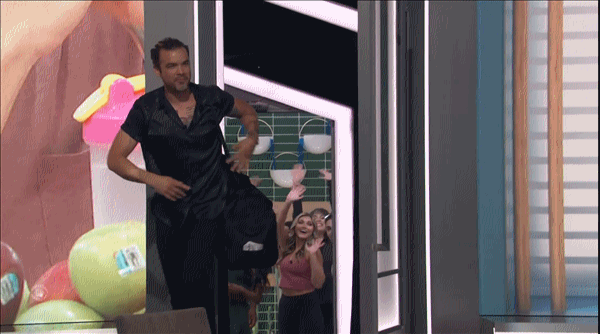 Julie to Daniel - you bolted and the only person you hugged was Terrance, what did you whisper to him?
Daniel - I whispered " I have gift underneath your pillow"
Julie- and what is it, may I ask?
Daniel - I left my can of hair wax, he doesn't need it and we have a little joke about it so.
Julie- that was quite a speech you gave, you called them clowns, you called them boring, you went after Michael, did you think that you could actually get any votes to stay, and if not, what were you trying to accomplish"?
Daniel - as soon as Nicole left the house, I knew I was done, and as the week went forward, I realized that I only had Jasmine and Terrance, officially, so it was really hard to get more votes, which was 5 ... so with that speech, I just wanted to let them know that I'm aware of what was going on and hopefully, the house, who seem to be the people that I've had to teach how to play the game, become aware that Michael is sweeping the game, he's the best player that this show has seen in a while and I do respect him, as a player, but I had to say that I had to say .. you know.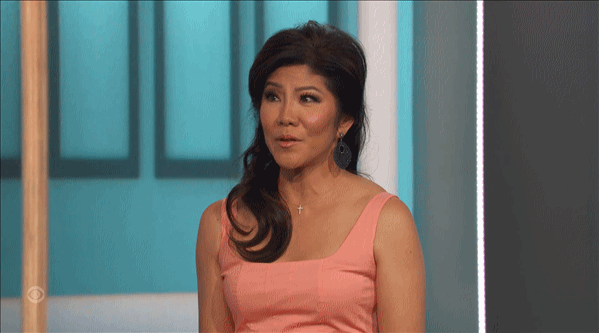 Julie- so let's talk about last week, when your ride or die Nicole, was evicted with a vote of 9- 1... you being the one vote, hoping she would stay, and after she was evicted, you being very emotional, you went you went after people that you weren't aligned with like Michael and Monte, but you also went after allies like Alyssa .. why?
Daniel - I don't think I went after Alyssa, but I was definitely emotionally charged and someone said we had her vote, and she didn't stick to her word, but I don't know what's going on behind the scenes, I can't wait to check it out, yeah .. but for Michael, he's a huge threat, he's against me. Monte is a huge threat, and he definitely lied to me and Jasmine, and I wanted to call him out to people, to see that he doesn't have a back story, or a ploy... hopefully they understood.. but I don't think they did.
Julie- sitting here with me on the outside, you don't regret it ..
Daniel - no .. no .. I love this game.. and I knew when my number one went home....how things would work out and I wanted to play it out as much as I could, until I walked out the door, it's an honor to be here.
Julie- your number one was Nicole, and when she got evicted last week, that was the week that you insisted on using the power of veto
Daniel laughs - yeah
Julie- which landing her on the chopping block ... do you take any responsibility for her eviction?
Daniel - I do not . because I was not the Head of Household who put her up, but .. we talked about it... we went through every scenario possible. and if we didn't have Indy and Alyssa .. as numbers, there was no way that we could move forward as a bigger alliance and take over the house, so we knew it was a risk, and what could happen, and when it happened, I knew I was the next one out.
Julie - for the past few weeks, you have been very vocal about wanting Taylor out of the house, why? Was it personal or was it strategic?
Daniel - it was both ... personal because I love Paloma, like a sister, so when I heard her ( Taylor ) lie about her.. it really affected me emotionally, I'm a really loyal. loving friend, so that affected me there. .and then entered game.. because Paloma was a number for me, and I considered her a number two .. even after eight days .. so ... it was definitely both down the line and I'm glad that we have had time to talk, me and Taylor, throughout the rest of the season.
Julie- are you square with her now?
Daniel - I believe so .. I hope so.. and if we're not . I can't wait to talk to her after.
Julie- okay.. so this past week, you seem to put things together, figuring out there's quite an alliance
Daniel -oh yeah
Julie- well.. I'm here to confirm that yes... the seven people that you suspected are working together and they call themselves " the Leftovers"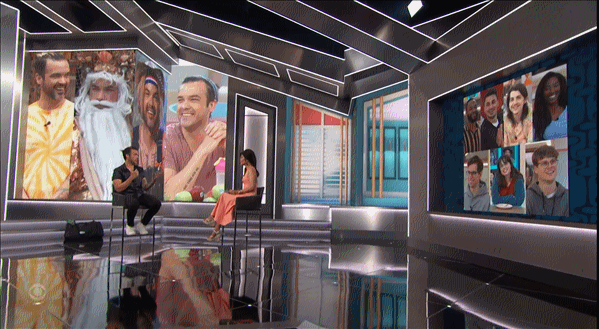 Daniel - I love that!
Julie- now, they started to form, just after you lashed out at Taylor in the main bathroom ...
Daniel -- oh .. alright
Julie- and they did so, because they felt like they were the low men and women on the totem pole, and they also wanted to unite against what they saw as the unfair treatment of Taylor in the house
Daniel - okay.
Julie- does hearing any of this surprise you . what is your reaction?
Daniel- no . I respect and it makes me happy that people can come together after moments like that .. as a fan . I think it's great... I can't wait to watch it back .. and support them .. I mean ... I love this show . and if I've done any wrong doings .. I can't wait to right them.
Goodbye messages.....
Michael - Daniel, if I close one eye, your head is right between these pieces of bread, and that just means I made an idiot sandwich. Daniel, you nominated me, you berated my girl Taylor, and you used the veto that backdoored your best friend, I'd say "good game" but I'd be lying... Goodbye, Daniel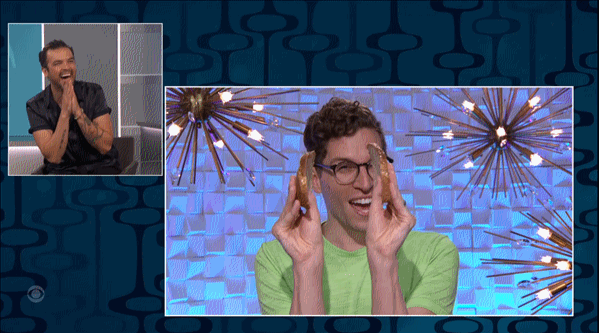 ​
Jasmine- Daniel, I think that you are very passionate and loyal and I respect that on so many levels, and I think that's why we got along so well. Outside of this house, I think we are going to be friends FOREVER, love you, have a great summer!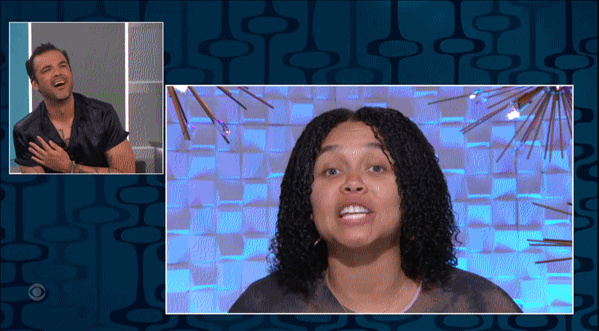 Kyle- Daniel, Daniel, Daniel, I've been playing you bro, this entire time. I formulated the Leftover alliance with seven people, you think there is a bunch of sheep in the house, but the sheep is you , bro. Peace! Baaaaa ( like a sheep )
Terrance - Daniel, we went to war together brother, we really tried to make it happen, you are definitely one of the closest people I had in the house, it's your boy forever and I mean that .. always remember that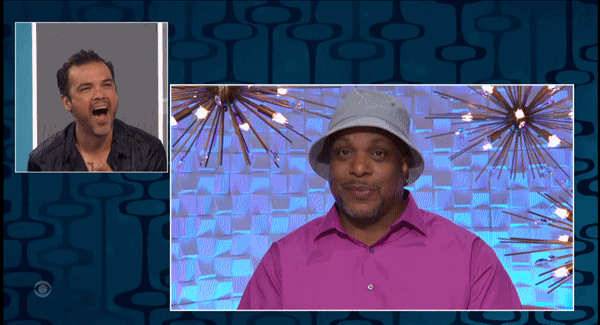 Joseph - Daniel dude, I love you man .. I know that you can be a very emotional and protective person .. which can be a double-edge sword .. but I think your intentions always come from a good place... I'm really going to miss our jokes and phrases .. but you'll always be remembered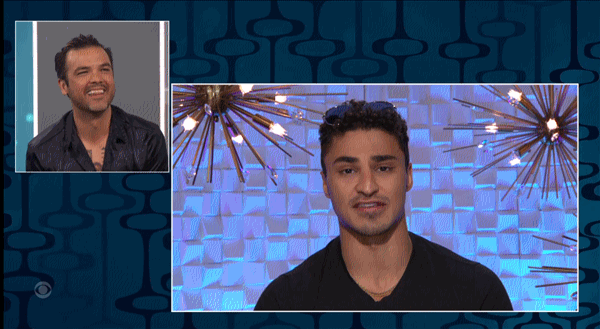 Taylor- Daniel, I've never been happier to see someone walk their sorry ass out that door. Oh, and I guess your wish will come true, you don't have to speak to me until Finale night ...
Daniel laughing says- that's so good!
Julie- is she joking? what are your final thoughts?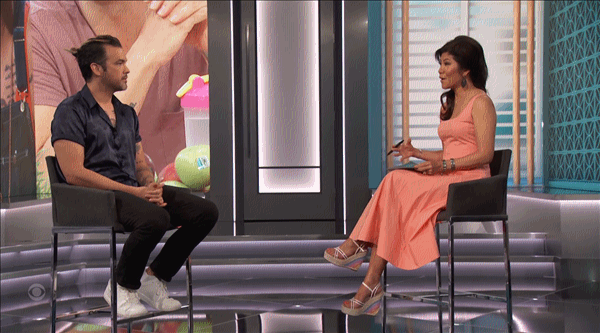 Daniel - I think it's both .. there's some truth in that and I respect it .. and I will speak to her on Finale night .. yeah.
Julie- you waited ten years to get on this show
Daniel - ten years of auditioning ..
Julie- was it everything you hoped for?
Daniel - it was .. A LOT ... I just wish I would have won . that's the only difference.. but I did everything that I wanted to. . I got first HoH and I made a Final 2 on Day 2 .. and that's all I ever wanted .. so It's been a dream ..
Daniel - of course,. thank you.
​​Julie lets the house guests know that the Festie Bestie twist has ended.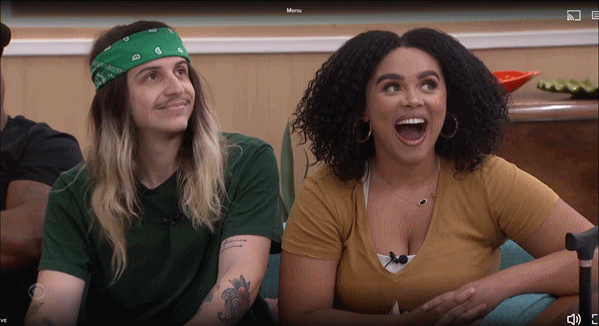 She also lets them know that they have "at least" made it to jury.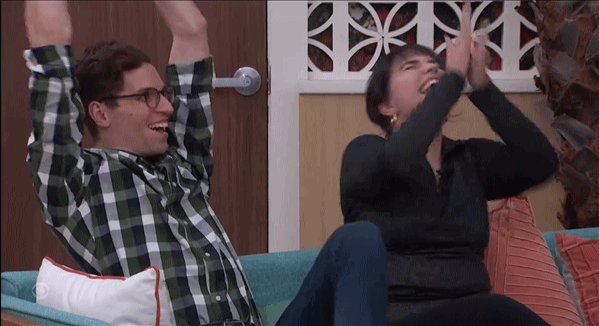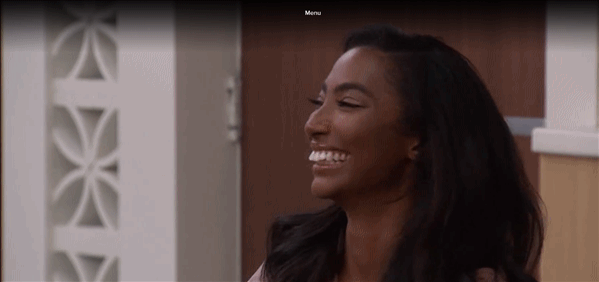 Endurance Head of Household Competition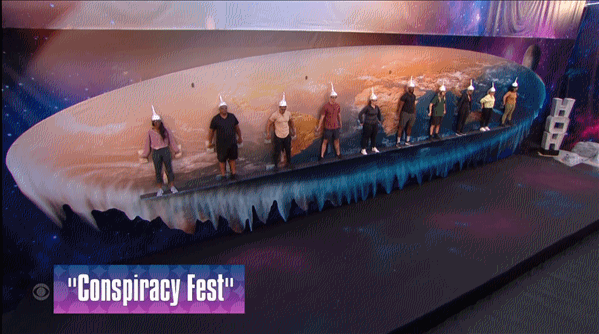 As soon as Julie said " Good Night House Guests.... Jasmine dropped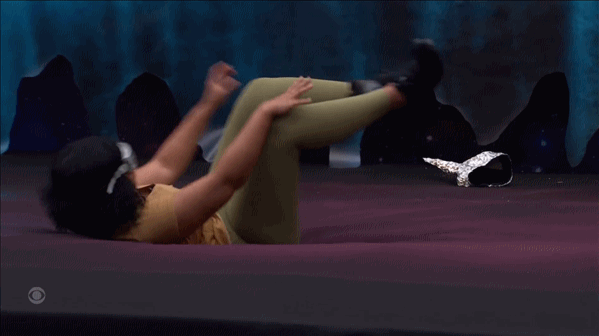 ​
And then...
Julie reveals the new twist ...
Julie- Next Thursday, in a special 2 hour event... for the first time ever.. the game will completely change.. as the house splits into two groups. These two groups, will have no interaction. And, in a Big Brother first, two completely separate games of Big Brother will play out simultaneously all week long, all of it culminating with a double eviction like no other.
Watching the Live Feeds not for you?
Let us do the work for you ... and you can catch up on all the drama inside the Big Brother 24 house with our
Live Feed Updates
.. it's there .. . in all it's crazy glory
Like what we do here?
Live the Live Feed Updates?
Like the Live Feed Discussions?
Like to join in on the Live Episode Discussion every Thursday night?
A great way to support this website is by making a donation via our Pay Pal link.
We'll bring all the Live Feed Updates to you in our Live Feed Updates Forum.
We appreciate any support!
Brittany is out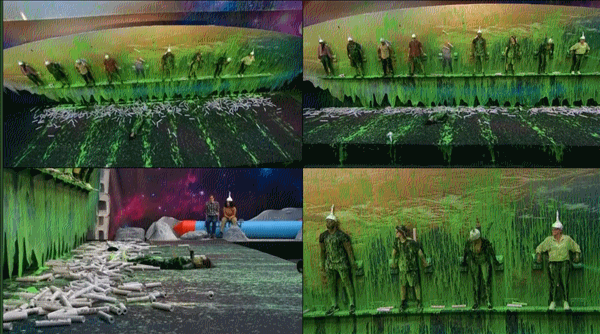 ​
Terrance is out
​
Monte out
Alyssa out
Taylor, Joseph, Kyle, Turner and Indy remain
Indy out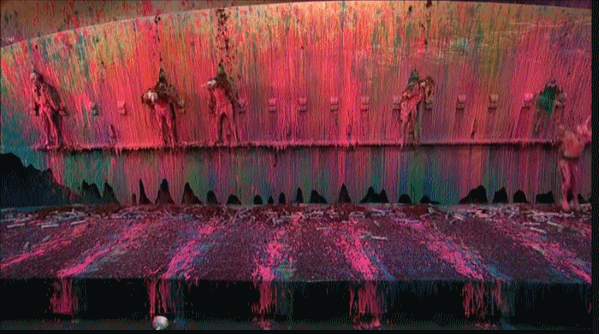 Turner out
Taylor, Kyle and Joseph remain ...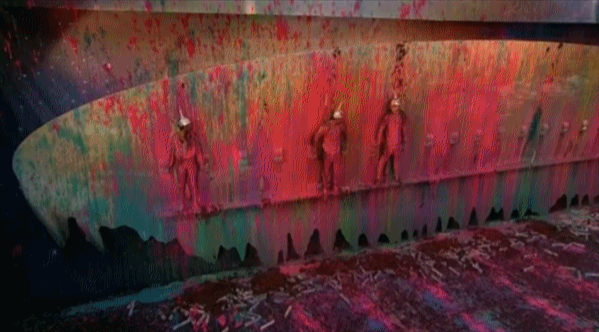 Taylor - are you guys feminists? ... would you like to see a female HoH .. ??
Joseph out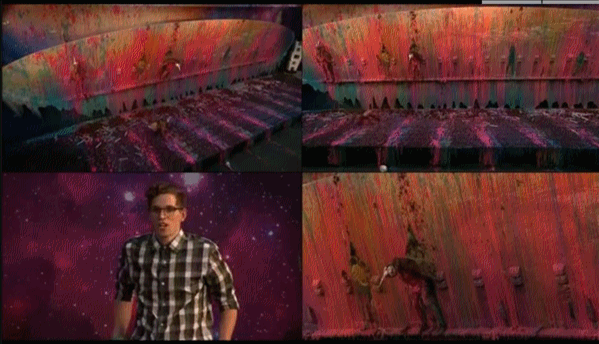 It's down to Kyle and Taylor
Taylor to Kyle- I've been through hell here
Kyle - I know
Taylor to Kyle- you're safe ..
He struggles a bit more .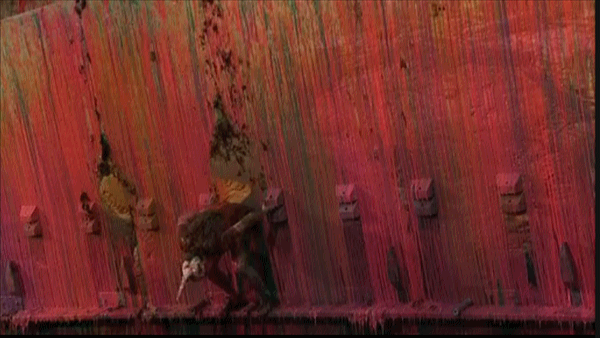 The drops ...
Kyle out
Taylor is the new Head of Household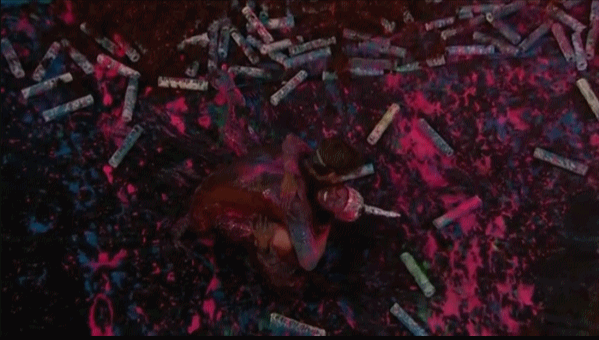 Catch up on all the drama inside the Big Brother 24 house with our
Live Feed Updates
.. it's there .. . in all it's crazy glory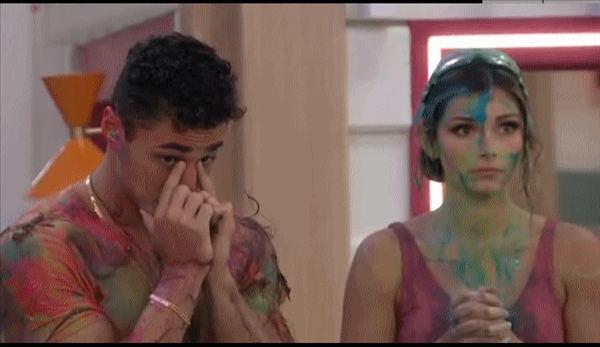 If you are not a registered member of BBU, we invite you to register and join us.
And, don't forget to follow us on Twitter -
https://twitter.com/BBrotherUpdates
As always, thanks for reading!
Lexie