The Big Brother 17 Veto Ceremony is over and we have the results! Was the power used to change the nominations? You
can continue to read or click "see more" to find out! Why not try the Live Feeds and
watch all the crazy antics of the season for the low, low price of only $5.99 per month. You get one week free to try them out! It's just not Big Brother without the
Live Feeds
, you're sure to enjoy watching all the ins and outs that you miss by only watching the television episodes. Plus, signing up for the live feeds by clicking on our banners and links is a great way to help support all that we do here all summer long.


Yesterday, Da'Vonne tried to talk to Shelli and convince her to nominate Audrey as the replacement nominee, she told her that she "came into the house for her daughter and she didn't feel like it was her time to go".

Here's just a sneak peek of the convo... you can FLASHBACK 1:26 PM BBT 7/5 for the full convo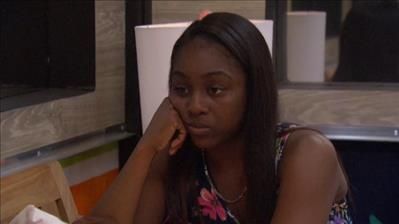 Da'Vonn
e to Shelli- I'm
on the block, I didn't
win veto, and I'm still here, a
ll I'm asking is that you put her (Audrey) next to me and let the house battle it out, that way your hands are clean of it. I guess the house wants me up, the house wants her ( Audrey ) up, side by side, and let us battle it out. After this, if I survive, hopefully me and you can start fresh and begin again. If I do stay, I do want to work with you, now that there's no middle man.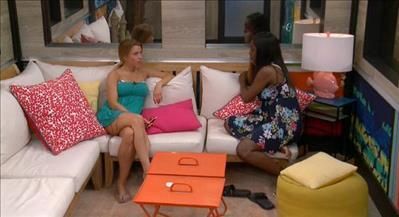 Shelli- I really, really like you and this is super hard for me... it's just too bad that we all can't relax and be friends, and I do think the way you've been handling this situation has been with extreme grace and beauty, and I think that speaks volumes about you and I think that's wonderful. The reason why I feel uneasy, is because we did separate early in the game and it doesn't really matter why, we are both at fault for letting it happen. And, week 2... the pool of people to put up is big, but the targets are small.
It was a big move for me to put you up. If I then save you, it could come back to bite me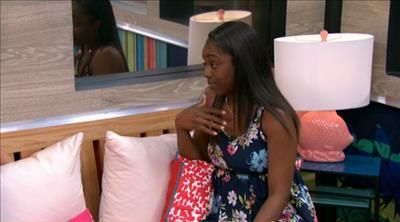 Da'Vonne- I'm doing this for my daughter, so to leave out of here on the second week, would be hard. Like I said, even if I don't win this game, I want to at least to make it to jury. Jury is enough to change me and her life. And, that's why I'm here. So I hope you will take what I said into consideration.




Shelli- Definitely. Thank you for coming to talk to me and I will think it over.

Da'Vonne/James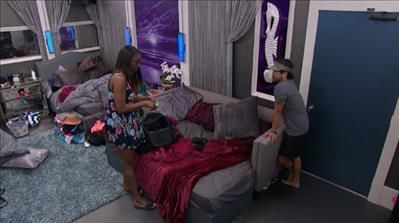 James - Did you have a good talk?
Da'Vonne - It went good but just I didn't want to talk to her.... I felt so fake but I did it.
James- what did she say? Do you think you got anywhere?
Da'Vonne- she says she feels loyalty to Audrey, and that the house will understand, because that's someone that she's been loyal to.
James- wow!
Da'Vonne- yep
James- well you got your answer. Who do you think she is putting up beside you?
Da'Vonne - Somebody that is well liked.
James - Gotta be Meg then...
Da'Vonne- hopefully, she will think about what I said... but if it comes to it and if she puts up someone that's small, you get her ass out next week, because that shows you that she will be loyal to that bitch ( Audrey ) all the way through


Shelli/Clay
FlashBack 5:45 PM BBT for the entire convo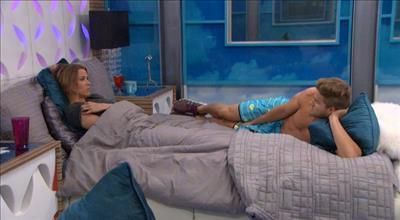 Shelli-
Day actually had a very good compelling conversation with me.... for a split second she almost had me worrying and thinking. And, of course, she tugged at my heart strings, when she was talking about her baby girl.
Clay- are you sure you're going with Meg? ( as the replacement nominee?)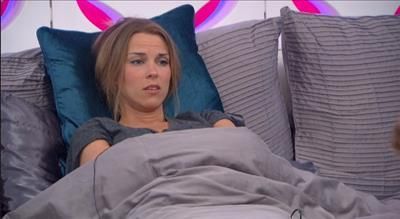 Shelli- yes.


**Shelli let Meg know this morning that she would be the replacement nominee....

And with all that....
The Power of Veto Ceremony took place ....


John used the Power of Veto to remove himself from the chopping block.
Head of Household Shelli Poole carried out her plan and nominated ...

Meg as the replacement nominee.

Da'Vonne remains Shelli's target for eviction.

Either Da'Vonne or Meg will be evicted this week...
The drama continues on the Live Feeds....
We hope you'll sign up for the Live Feeds right here at BBU and help support all that we do here all summer long. We appreciate any support!
Just
CLICK HERE
or on any of the live feed banners you see here to get signed up and help support this website at the very same time.

We also hope that you're loving the new website. Welcome to all our new members and a note for any returning members:

Please note: If you are a returning member, you will need to register again...
*Your old BBU sign in and password will not work - you must Register again

.
There is a two step registration process.
1) Complete registration and you MUST include a valid email address you can check.
2) Upon completing step 1 - make sure you check your email address because you MUST click on the second step verification link to complete your registration process.
Live Feeds not for you? But, you like what we do here?

Another great way to help support this website is by making a donation via our PayPal button. It's just over there on the right! We truly appreciate any support and would not be able to do this without you! Be sure to add your BBU Nickname in the note section so I can add your new donator button!
Join us on our Forums for great discussions and live feed updates, all summer long.



As always, thanks for reading ~~ Lexie
Follow us on Twitter -
https://twitter.com/BB_Updates
and Facebook -
https://www.facebook.com/bigbrotherupdates
Check out one of our favorite places on the net - -
SirLinksAlot.net
​