The Big Brother 17 Da'Vonne Rogers knows a secret! But, in this house, a secret isn't a secret for very long. Also, could Da'Vonne have the "last laugh"? You
can continue to read or click "see more" for a sneak peek inside the Big Brother 17 house. Why not try the Live Feeds and
watch all the crazy antics of the season for the low, low price of only $5.99 per month. You get one week free to try them out! It's just not Big Brother without the
Live Feeds
, you're sure to enjoy watching all the ins and outs that you miss by only watching the television episodes. Plus, signing up for the live feeds by clicking on our banners and links is a great way to help support all that we do here all summer long.


Before we take a look back at Da'Vonne figuring out the Twin Twist and how it spreads like fire through the house. You should know that Da'Vonne was the 7th person to answer the #BBTakeOver telephone call. With that, as Kathy Griffin promised, she has the power to remove 3 votes. And, no it's not a secret, everyone knows that she has the power to cancel 3 votes. Will it make a difference for Da'Vonne. I suppose anything could happen in the Big Brother house, well anything but keeping a secret in this one....
Flashback - 7/6 3:42 PM BBT

Da'Vonne tells Jason her thoughts about Liz and "the twin" ...


Da'Vonne tells him that sometimes Liz's face is very skinny with her nose pulled to the front.... while other times her face is really fat and pie faced. They go on to compare notes and agree that Liz is definitely switching in and out of the house with her twin.

Da'Vonne- The feeders are probably going bananas right now!
Jason- Because they know that we smart as ****!
Flashback - 7/6 9:21 PM BBT




Jason to James- remember my theory about Johnny Mac and his twin? Scratch that. But I do think there is a twin twist. Watch Liz.


Flashback 7/6 9:40 PM BBT

Jason tells Meg ...


Flashback 7/7 3:25 AM BBT

​Jason tells Jeff and Jackie) Da'Vonne, Meg and James are there too.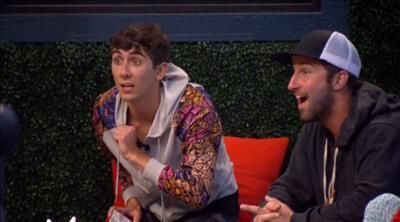 3:45 AM BBT

Steve joins the convo and they tell him about the Twin Twist




Jason to Steve - you can't say anything to anyone about this yet.


Jeff makes his way up to the HOH ...
And tells Shelli and Clay ....
Shelli- why
would they do this again?
Clay- because it's awesome.
Clay- does she ( Liz ) have any idea that people know?
Jeff- no

Shelli- who put this together?
Jeff- all of us ...
Shelli- who?
Jeff - Me, Meg, James, Jason and Da'Vonne knows about it now.
Shelli- how long have you been thinking this? Just today or when?
Jeff- no... for a while... but today was the first day that I was like what the **** is up with her ...
Shelli- who started this convo with you all?
Jeff- Jason did. Then everyone started a group conversation.
Shelli- this is SO amazing!
Jeff- we just have to be careful, the last time they did this, if the twins stayed in the house for a while, they both got to come in.

Jeff to Clay - just pay attention to what she looks like...


Shelli and Clay watch the spy screen and see the others at the memory wall ...




They are buzzing with excitement ...




Shell and Jeff join the others downstairs... to discuss it all ...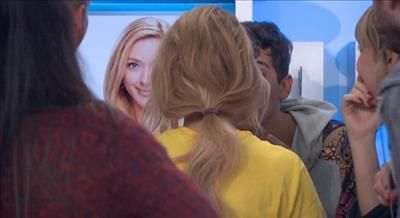 Today... we catch Clay taking Jeff's advice to check out Liz ...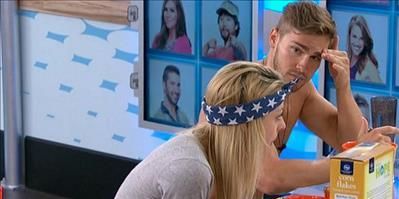 And, Liz/Julia go "under cover" ...


The drama continues on the Live Feeds...
We hope you'll sign up for the Live Feeds right here at BBU and help support all that we do here all summer long. We appreciate any support!
Just
CLICK HERE
or on any of the live feed banners you see here to get signed up and help support this website at the very same time.

We also hope that you're loving the new website. Welcome to all our new members and a note for any returning members:

Please note: If you are a returning member, you will need to register again...
*Your old BBU sign in and password will not work - you must Register again

.
There is a two step registration process.
1) Complete registration and you MUST include a valid email address you can check.
2) Upon completing step 1 - make sure you check your email address because you MUST click on the second step verification link to complete your registration process.
Live Feeds not for you? But, you like what we do here?

Another great way to help support this website is by making a donation via our PayPal button. It's just over there on the right! We truly appreciate any support and would not be able to do this without you! Be sure to add your BBU Nickname in the note section so I can add your new donator button!
Join us on our Forums for great discussions and live feed updates, all summer long.



As always, thanks for reading ~~ Lexie
Follow us on Twitter -
https://twitter.com/BB_Updates
and Facebook -
https://www.facebook.com/bigbrotherupdates
Check out one of our favorite places on the net - -
SirLinksAlot.net
​