The Big Brother 17 Heads of Household Austin Matelson and Vanessa Rousso have a plan in place for eviction and even a possible back door.
Plus, there's another new alliance and perhaps some controversy
surrounding Jeff Weldon.
Who will be the target this week? Who won't?
Keep reading or click "see more" below to find out! Be ready to watch all the drama on the Live Feeds! Try them one week for Free and then they are only $5.99 per month. It's just not Big Brother without the Live Feeds, you're sure to enjoy watching all the ins and outs that you miss by only watching the television episodes. Plus, signing up for the live feeds by clicking on our banners and links is a great way to help support all that we do here all summer long.
CLICK HERE
to get signed up today and help support this website at the very same time. We truly appreciate your support.
8:38 PM BBT

Vanessa tells Austin that she has "some great ideas" ...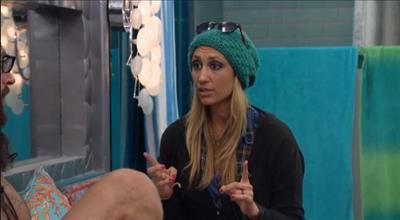 Vanessa- we are in a good spot.

Austin says he's worried about Jeff

Vanessa- he's a target

Austin- good

Vanessa - he's a back door

Austin- that's what I was thinking.

Vanessa- it would be better if I put him up

Austin agrees




Vanessa - I want to make it so we're guaranteed to get either James or Jeff or Jason

Austin - Who is your #1 ( to get out )
Vanessa- Personally it's James..... but strategically it is Jeff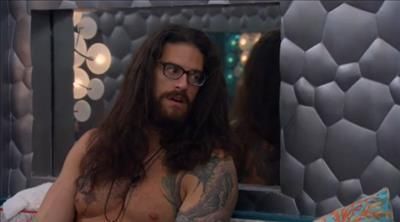 Austin - I don't want to put up any of those Steves or Johnny Macs
Vanessa- noooo
Austin- Their side only
Vanessa agrees then says she could put up Jackie, he can't .. but she can...


8:52 PM BBT

Austin- Audrey needs to stop throwing us under the bus... she's making it easy for us to take her out but it would be stupid





Austin and Vanessa agree that they will NOT put up Audrey this week.

They agree, keep her around, otherwise, they are targets next week.
They give Audrey the "code name" of "Capone"


Speaking of Audrey, after the HOH room reveal, Audrey makes her way back up after everyone leaves...

10:11 PM BBT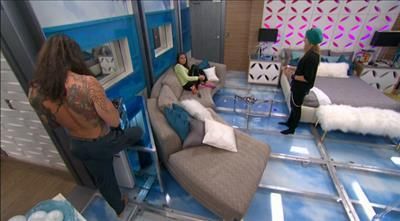 Vanessa to Audrey - you are safe this week, you do not have to worry about anything... for our alliance, take this time to breath easy ...
Austin agrees
Vanessa there might be some major back dooring this week.. and I'm going to let them think all day that it's you ... but you have nothing to worry about. I think you know you can trust me... just let them assume it's you .. it's all the better because they will have no idea.


Meanwhile...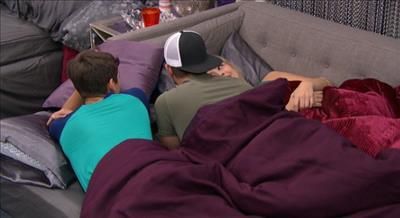 Jason to Meg and Jeff - I feel like Vanessa is a wildcard. She is going to do some **** that no one expects
After Audrey leaves the HOH room ...
Vanessa uses the gummy bears to map out the alliances in the house...
11:18 PM BBT

Liz ( who came back in the house at 10:34 tonight ) tells Vanessa- I want Jeff and James gone...




Vanessa- well good news.. so do we. One of them will be gone this week.



A new alliance is born...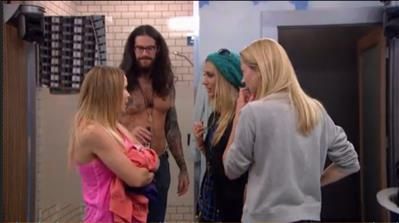 Sixth Sense Alliance which consists of Vanessa, Austin, Clay, Shelli, Liz and Julia


One other note of interest/concern?



7/9 8:21 PM Cam 3




Jeff/Julia
It's been reported that Jeff was "taking care of business under the covers" and then wipes the residual on Julia


You watch and tell us what you think.

Don't have the Live Feeds Yet?

No problem...
Just
CLICK HERE
or on any of the live feed banners you see here to get signed up and help support this website at the very same time.

We're glad you are here with us for another season of Big Brother!

Please note: If you are a returning member, you will need to register again.
*Your old BBU sign in and password will not work - you must Register again

.
There is a two step registration process.
1) Complete registration and you MUST include a valid email address you can check.
2) Upon completing step 1 - make sure you check your email address because you MUST click on the second step verification link to complete your registration process.
Live Feeds not for you? Another great way to help support this website is by making a donation via our PayPal button. It's just over there on the right! We truly appreciate any support and would not be able to do this without you! Be sure to add your BBU Nickname in the note section so I can add your new donator button!
Join us on our Forums for great discussions and live feed updates, all summer long.

As always, thanks for reading ~~ Lexie
Follow us on Twitter -
https://twitter.com/BB_Updates
and Facebook -
https://www.facebook.com/bigbrotherupdates
Check out one of our favorite places on the net - -
SirLinksAlot.net