The Big Brother 17 Power of Veto Players have been picked! Who is playing in today's Power of Veto Competition?
Keep reading or click "see more" below to find out! We'll also update you with the results of the Power of Veto Competition as soon as it plays out later today! Watch all the drama on the Live Feeds! Try them one week for Free and then they are only $5.99 per month. It's just not Big Brother without the Live Feeds, you're sure to enjoy watching all the ins and outs that you miss by only watching the television episodes. Plus, signing up for the live feeds by clicking on our banners and links is a great way to help support all that we do here all summer long.
CLICK HERE
to get signed up today and help support this website at the very same time. We truly appreciate your support.


Today's Power of Veto Players are:

Head of Household Vanessa Rousso
Nominees - James Huling and John McGuire
Players Picked - Shelli Poole, Austin Matelson and Audrey Middleton
James pulled Audrey's chip out of the bag...
Johnny Mack pulled a "house guest choice chip" he picked Austin ...





John to Jeff- I didn't want to any single person from the group
Jeff- no man, it's okay, I just wanted to compete today.
John- I felt like if I picked Austin, no one would question anything
Jeff- I'm sure Austin will be a man of his word. We just don't want Audrey to win it.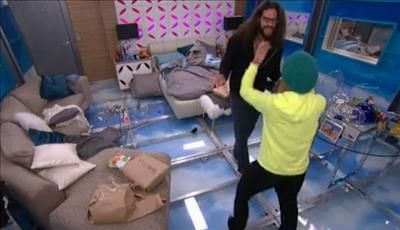 Austin and Vanessa celebrate. They plan on throwing the competition to Audrey.
Shelli joins the celebration of James pulling Audrey's name....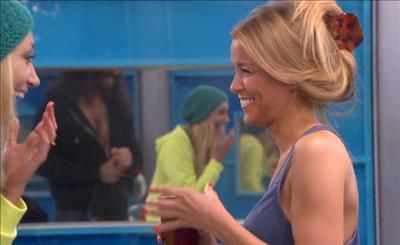 Austin tells Vanessa that he would love for Jeff to be blindsided on eviction night if James wins PoV.
The drama continues on the Live Feeds, as Austin is having a meltdown about Liz sharing a bed with James last night, over him.

You can FLASHBACK to watch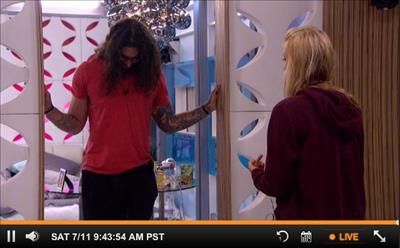 Don't have the Live Feeds Yet?

No problem...
Just
CLICK HERE
or on any of the live feed banners you see here to get signed up and help support this website at the very same time.

Live Feeds not for you?
Catch up with our Live Feed Updates HERE or join in on a Live Feed Discussion HERE

Please note: If you are a returning member, you will need to register again.
*Your old BBU sign in and password will not work - you must Register again

.
There is a two step registration process.
1) Complete registration and you MUST include a valid email address you can check.
2) Upon completing step 1 - make sure you check your email address because you MUST click on the second step verification link to complete your registration process.
Another great way to help support this website is by making a donation via our PayPal button. It's just over there on the right! We truly appreciate any support and would not be able to do this without you! Be sure to add your BBU Nickname in the note section so I can add your new donator button!
Join us on our Forums for great discussions and live feed updates, all summer long.

As always, thanks for reading ~~ Lexie
Follow us on Twitter -
https://twitter.com/BB_Updates
and Facebook -
https://www.facebook.com/bigbrotherupdates
Check out one of our favorite places on the net - -
SirLinksAlot.net