The
ne
w CBS
Big Brother
17 house has a whole new look! A plexiglass box in the middle of the sky, a nightclub under the sea, a sky bridge that makes you feel like you're walking on air, are just a few of the ways that Big Brother production designer, Scott Storey describes the new Big Brother 17 house. Click "See More" below to get your first look at where the new cast will be spending their days and nights as they compete for $500,000! If you haven't signed up for the Live Feeds (CBS All Access) simply click the link/banner below and get signed today. It's a great way to watch your favorite players inside the Big Brother 17 house and help support this website at the very same time!
The bathroom is covered in blue-mirrored plexiglass....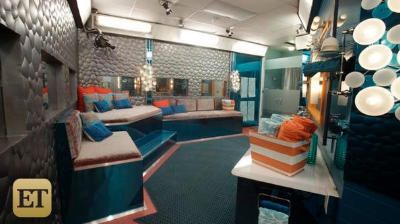 The "Hangout Room" definitely has much more appeal than last year, the hammock is made for three!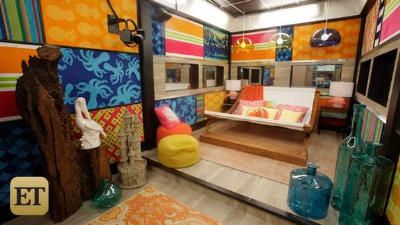 Storey tells Entertainment Tonight that "the
Big Brother
house had an angled ceiling above part of the living area." But not anymore...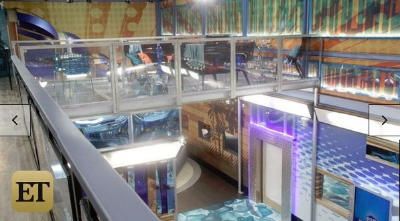 The angle ceiling is gone and replacing it is a "Sky Bridge". Storey says "it's a little unnerving to walk on, it's like you're walking on air." By adding the "Sky Bridge" he also
added more seating and an extra 155 square feet to the house.
The Kitchen has a brand new look, with all stainless steel appliances and the kitchen table is constructed out of two steel I-beams, one red and one silver.
The other two bedrooms have totally separate looks! One inspired by a "
nightclub under the sea" with curtains made out of chains, the other has a more masculine feel, with a comic book inspired look.

Be sure to check out all the Big Brother 17 House pictures in our Forum and be sure to check out Julie Chen's Big Brother 17 house tour on Entertainment Tonight!
Get ready for another exciting season of Big Brother, sign up for the Live Feeds for just $5.99 per month as part of the CBS All Access package. Not only can you watch the house guests as the compete for the $500,000, with CBS All Access
you can watch every episode of every Big Brother Season, along with other CBS shows like Survivor and more!
New this season
- Subscribers with a Roku device can access the Feeds this summer using the CBS All Access app from Roku.

Get signed up today by clicking on the link below!