Big Brother 17
Vanessa Rousso and Audrey Middleton as the female Chill Town? Stranger things have happened in the Big Brother house. As Vanessa's reign as Head of Household draws to and end, she's trying to shore up her alliances and perhaps even create one more, but who is really playing who?
Keep reading or click "see more" below for a sneak peek inside Audrey and Vanessa's game talk. Try the Live Feeds FREE for one week! Watch all the drama on the Live Feeds! This season, the Live Feeds are only $5.99 per month. And, it
's just not Big Brother without the Live Feeds, you're sure to enjoy watching all the ins and outs that you miss by only watching the television episodes. Plus, signing up for the live feeds by clicking on our banners and links is a great way to help support all that we do here all summer long.
CLICK HERE
to get signed up today and help support this website at the very same time. We truly appreciate your support.
7/14 2:07 AM BBT - Vanessa and Audrey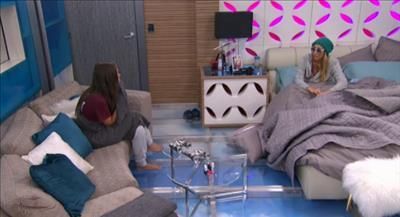 Vanessa- who do you think are the best game players here? Who understands the game?
Audrey- I think you. I think Shelli is smart, but I don't think I'd say she's one of the best. I think you, I think Steve, understands the game very well. I think Jason understands the game very well. But, I think that his downfall, is that he plays with his ego a little bit.
Vanessa- other than you and I, who can play the game like this?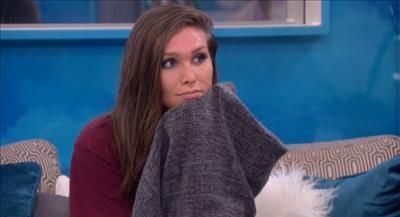 Audrey – I don't know that together, anyone could be, as good as a combo, as us.
Vanessa – I think we could play this game, very well together.
Audrey- oh me too.
Vanessa- I knew from week one, that you were the only person that I wouldn't need to explain things to. I could just do what needs to be done. That's what's very hard for me, working with people.. it's like dude, I'm doing all the ****ing work. Like, that thing with Jeff, it literally got to be like, people were coming to me asking "do I say this first, or do I say that first" .. I was like c'mon... go confront him with the info that you have, how hard is that? And, it would really be like, nice to know that someone is working and not only that, but adding things to the picture would be great.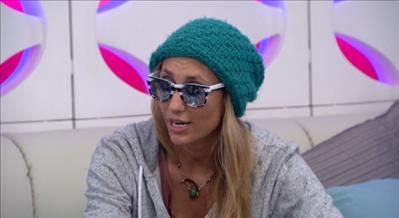 Vanessa- I think that we could work really well together. I think the biggest threat, otherwise, in terms of someone that we need to worry about, who can play the game and is very strategic, and understands things on a bigger picture, is Jason.
I think Jason is a really good game player. I really do. He hasn't exposed it to me, but based on small things that he's said, and just how WELL he says them to me, I have a very strong inkling that he's a very strong game player.
Audrey – mmm hmmm... he has a very good social game. He's jokey, he doesn't seem that serious all the time but I feel like it's calculated. Like I said a very passive, aggressive jab in the kitchen and he played it off super well. Like, he didn't give a reaction to it and I think that's someone who has a certain kind of intelligence. Because it wouldn't have been smart for him to entertain it.
Vanessa- right, totally and I've seen it. He's very subtle in the way he does things and he lies very well.
Audrey - oh my god, so good.
Vanessa- I've seen him lie before, and the thing is, he's younger than me, a lot younger, and I have that worldly experience on him, just enough that even though he's a great game player, I know when he's trying to play me. And, watching him work, watching him try to do it to me, actually impressed me.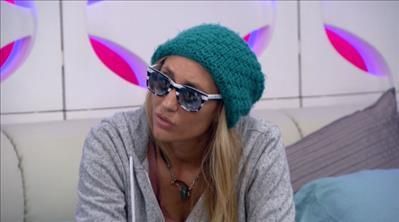 Vanessa- I was like okay, cool, he could be someone to work with or on the other hand, he could also be a very big threat, just depends where his alliances are, were the cookie crumbles. Do you see him connected to anyone right now?
Audrey- for sure Meg and for sure James. I don't' think Meg and James are threatening. But for sure I know he's connected to them and I think he's been getting closer to Becky.
Vanessa- and why does he hate you so much?
Audrey – I think because of Da'Vonne. Whatever she said, he ran with it and I think THAT is his downfall.
Vanessa- the emotions of it...
Audrey – right. And, I think that she ( Da'Vonne ) would have been the catalyst of his downfall, had she stayed and I think he picked up on it. He wouldn't listen to anything I said, because of her and even now, because we are on a television show and she could be watching, he still SO loyal to her, I don't think he would genuinely work with me. Ever.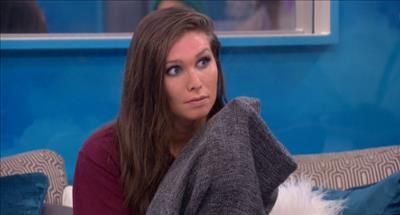 Audrey – but it would be smart of him not to have me as an enemy.
Vanessa- we should keep our minds open to the potential of that. If things fall in a way that doesn't favor our bigger alliance, if things don't work out, if Austin becomes a target, if Shelli and Clay get targeted, and we end up in a different position, that may be someone we could work with. And, the story would be great, it would be awesome. But, if it can't happen that's fine.
Audrey- I don't think there's anything I could say that persuasive enough though. I really have tried to get on his good side, since Da'Vonne left. But...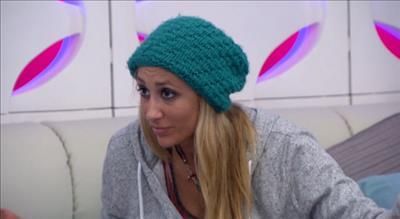 Vanessa- look if you want to work together, I'm very open to it. I'm trying to clean up your image for the reasons I've said, from Day One.. like wouldn't it be amazing.. there's never been a female Chill Town.
Audrey – absolutely
Vanessa- there hasn't and I think we have what it takes. Like, strategically I know it. And, I'd like to do it. And, you know, everyone we're working with, has a ****ing showmance.
Audrey- yeah I know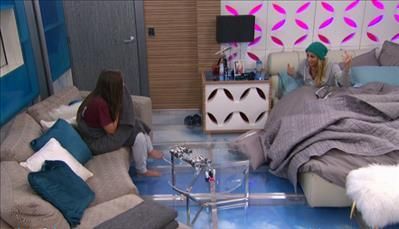 Vanessa- I'm like what the ****? And, let me tell you we are deluding ourselves if we ever think straight up, if we get to the top 3 with these mother ****ers, that they are taking any other person, do you understand that?
Audrey – oh for sure.
Vanessa- that's what's happening and we can't be dumb about it, we can't ignore that fact. You get to top 3 with Shelli and Clay, no one else is getting picked for F2, never ever ... Liz and Austin .. same thing...
Audrey- oh I know.
Vanessa- ever.
Audrey – absolutely


Vanessa- and that's just the way it is. We are playing with them now and we will be playing with them for a long while, but we need to not be dumb about it, we need to maximize our odds.
Audrey – absolutely and I want you to know that I see the benefit of working with someone like Jason.
I just don't think he will be able to see that.
Vanessa- I think I can convince him. I am really opening the door. I'm starting from ground zero with him. Like out of Level 100.. I'm on Level 4.
Audrey- and it's really hard .. because he spends 90% of his day with Meg.
Vanessa- you know, not a bad person to work with either. She will never win HOH's, but she will follow, easy to work with from a certain point.
Audrey- once James is out of the game, she will be so much more approachable, other than Jason, she won't have any guys to protect her.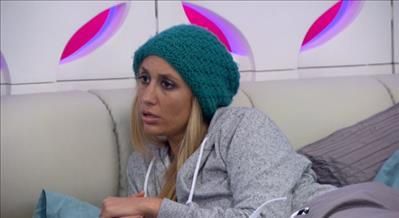 Vanessa- okay, I'll tell you this. We are building trust back up, I've shown you faith by giving you more information this week, I've tried to help you fix this. Over the next week or two, let's see how the cookie crumbles, let's work in a positive direction, we will really need to make an effort not to be seen together, even Shelli and Clay are starting to be suspicious ..even if I'm looking at you.
Audrey- I know ...
Vanessa-Oh and let's not discount Austin, he's a brilliant game player too.
Audrey- I know he is and he's setting himself up well. He's getting close with Becky and these people and acting totally shocked by the Jeff vote, and I think that's in his best interest, I don't think it's in the best interest of the group. That way if we go down for some reason, he has a safety net.
Vanessa- right. At the same time, he does a lot of that, he's always been like that and Clay and Shelli do it too.
Audrey- I know.
Vanessa – but he ( Austin ) is a bigger target and so are Clay and Shelli, so maybe they have to do that, I realize it and I allow it, as long as they know that the highest level of concentration needs to be on the group.
Audrey- I just want them to understand that they really need us. Because people will really be looking at the couples.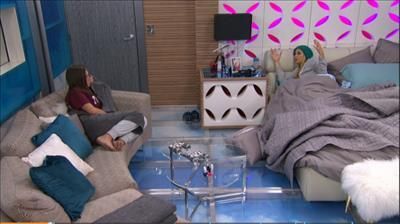 Vanessa- what kind of person would you want to get to the Final 3 with?
Audrey- not a Jason, but if we got there with Meg, we would be solid, or even a Liz.
Vanessa – James, is possible, even though I can't stand him.
Audrey- do you think we could beat him?
Vanessa – yes.
Audrey- he's so likeable.
Vanessa- what? he's the one person in this house I don't like.
Audrey – he's an easier option that Jason and I think that we could beat James in the final comp.
Vanessa- he is scrappy though ... he's skilled all the way around and he goes for the win. But anyways, start thinking about that... because I think in terms of this cast, we could really do it ( get to the end together)




Audrey - I think so, especially after this week.

What do you think? Could Vanessa and Audrey make it to the end together?
Join our
Forums
for great discussions and live feed updates, all summer long.

The drama continues on the Live Feeds, try them today Free for one week.
Just
CLICK HERE
or on any of the live feed banners you see here to get signed up and help support this website at the very same time.

Catch up with our Live Feed Updates HERE or join in on a Live Feed Discussion HERE
Another great way to help support this website is by making a donation via our PayPal button. It's just over there on the right! We truly appreciate any support and would not be able to do this without you! Be sure to add your BBU Nickname in the note section so I can add your new donator button!
Follow us on Twitter -
https://twitter.com/BB_Updates
and Facebook -
https://www.facebook.com/bigbrotherupdates
Check out one of our favorite places on the net - -
SirLinksAlot.net
Please note: If you are a returning member, you will need to register again.
*Your old BBU sign in and password will not work - you must Register again

.

For all ( returning or new ) registering:
There is a two step registration process...

1) Complete registration and you MUST include a valid email address you can check.
2) Upon completing step 1 - make sure you check your email address because you MUST click on the second step verification link to complete your registration process.
As always, thanks for reading ~~ Lexie