We MORE THAN YOU KNOW appreciate our Off~Season Donators, but we don't like that it seems to fall on just a handful of you guys all the time.
So yeah it's been a long cold winter and we're trying to gear up for a hotter than hot summer inside the Big Brother 18 house.
We've made it this far, but ONLY with the help of a handful of supportive BBU members ... You will see them wearing this button ....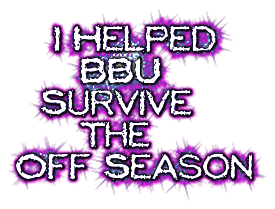 We have 3 more months to get to the Season Premiere of everyone's obsession - Big Brother 18 on June 22nd! ( woot! )
But... we need to be able to get the website ready for all of you who will be returning to spend the summer with us.
So, here's how you can help!
~~~> Climb the Off-Season Button Ladder with your BBU Buddies....
Here are the Off~Season Buttons that will
hopefully help
us get to Season 18 ....
Make your first donation and get this one...
Off-Season Donator -

Make a second donation and get this one...
Super Off-Season Donator
Make a third donation and get this one...
Super Hero Off~Season Donator
Make more and end up with this button that you will wear all season long, right beside any other donation buttons you earn during the BB 18 season.
We TRULY appreciate you guys and we'll work harder than ever to bring you the best of the best of Big Brother News and Updates all season long...
We just have to actually make it there!
I'd love to pop this button on a BUNCH of you ....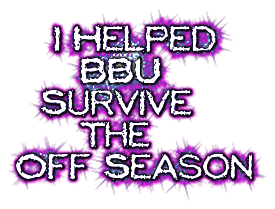 So join in and help out if you can.
Thanks to those of you who have helped already and
I am really, really, really hoping that others will come along and help us out during this time so that we are actually able to be ready for the new season.

#offseasonwoes
#thestruggleisreal
#IjustwantmyBBU


Thanks for any help : )