Those of you who have been around a while, you see me asking for support of BBU throughout the season and always at the end of the season.
Believe me.. it's never easy to ask.... but I do it because I want this website to continue to be the place that it is for everyone.
The Moderators and Rob work tremendously hard to ensure that everyone's time at BBU, is a pleasant one - and again - they volunteer their time ... without reservation ... because they are devoted to the BBU members. We offer our devotion hour after hour, day after day, month after month to bring all the updates to those who can't afford to watch the live feeds - due to money and/or time constrictions.
The bulk of the traffic at BBU, is during the 3 months of Big Brother, but as a website, we remain up and running for the entire 12 months each year. So, the expense of keeping the website up and running, doesn't end when the winner of Big Brother is crowed.
During the "off BB season" ... wee always try to offer discussions on Survivor and other reality shows.. including Celebrity Big Brother.. that "should be" coming our way again this winter.... and,. of course, the finally confirmed Big Brother Season 21 again next summer.
BUT.
... we need support to help keep the website going- since the majority of you, take a break, get back to life without Big Brother and life without checking in right here at BBU.
I'm asking now for help in advance of what's coming up, down time, off-season, on again season with Celebrity BB in the winter...
For the past 3 seasons, we've fallen short, where live feed sales are concerned, which is what use to help us push through the "off-season"...
There are a handful of members who do step in, step up, during the down times, to try to help us, but we're also reaching out to anyone, everyone who has enjoyed their time here at BBU, despite how the season has played out, or who ends up as the BB 20 winner.
If you've enjoyed checking in here, enjoyed the discussions, enjoyed the live feed updates and you'd like to continue to maybe even enjoy Celebrity Big Brother ....and then again next summer Big Brother 21 .... please, if you can, make a donation of support for BBU, as we do all we can to be here for you.
Thank you in advance for any help.. and don't forget to email me .. or post here, so I can add a donation button to your account : )
It would be totally awesome if everyone could earn the Big Brother Mega Donator Button, specially crafted by Mod Kenny, to keep on your account forever
And... to help you do that .. .we'll keep the button ladder moving to get you there .. until season 21 rolls around..
So there .. you have a challenge...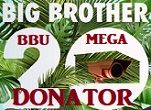 The best part is that every single donation helps to keep BBU going so that we can keep doing this over and over again.
Thank you for any support : )
Side note- you will see that a few BBU members have already earned the BB20 Mega Donator button ... and all I can say to them is thank you .. you helped keep us going when we probably wouldn't have been able to .. so I'll work on something else for you ... or Kenny will .... once I ask him pretty please ; )