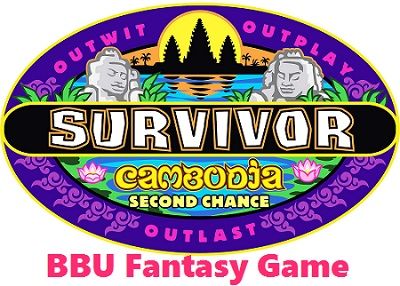 *Note: As we don't yet know the new tribe names (as of this posting), for question #1 you can simply name a person that you think will be on the winning tribe(s) in order to get credit/points.
ETA: New tribe info: please be aware that this info was not found via CBS so it could be totally incorrect as I've not been able to "officially confirm". These are *reportedly* the new tribes:
(New) Bayon: Jeremy, Kelly (Wiglesworth), Spencer, Kimmi, Stephen and Monica

(New) Ta Keo: Ciera, Joe, Kass, Keith, Kelley (Wentworth) and Terry.

(New 3rd Tribe) Angkor: Abi-Maria, Jeff, Peih-Gee, Tasha, Andrew and Woo.
1- Which two tribes will win the *Immunity Challenge*? (25 pts)

2- Which survivor will say this week's episode "title" ("We Have A Rat")? (25 pts)

3- Whose name will Jeff say *MOST* during this episode (not including recap from previous epi or previews for the next epi)? (20 pts)

4- Which survivor will be voted out this week? (20 pts)

5- What reward will be won during the Challenge? (15 pts)

6- Which survivor will Jeff *QUESTION LAST* during Tribal Council? (15 pts)

7- Will another HII (Hidden Immunity Idol) be found during this episode? (5 pts)
Give your best answers/guesses
and be sure to have them in before the show starts on
Wednesday, 10/07/15 @ 8:00PM (EST).
Results will be posted ASAP after show airs in all time zones
Good luck all and have fun!!