Hey guys,
Now that Survivor is ending ( along with the Finale of the Amazing Race ) we hope that all of you that have been following along, will continue to enjoy your Off-Big Brother Season time here. Please continue to stop in to check on and chat with your BBU Buddies, along with discussing any other shows that you guys might want : )
We are reaching out for any help that anyone can give, to help us continue to be here and make it through this Off- Big Brother Season time frame, so that we can remain up and running and ready for Big Brother 18 ( 18... crazy right?! )
We truly want to be here for Season 18, but we can't do it without your help. We do thank those of you who have helped out, YOU KNOW WHO YOU ARE and we know, because you are showing this Off-Season Donator buttons.....

If you are just passing by, checking in, please, please consider making a donation to help BBU : )
Thank you in advance for any help to keep this wonderful place going.
I have a brand new button to give to you ...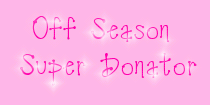 Lexie and the BBU Crew